Yuma's mayor says the state of the city is strong
Yuma Mayor Doug Nicholls gave his 10th State of the City speech Thursday morning
YUMA, Ariz. (KECY, KYMA) - Yuma's Mayor Doug Nicholls delivered his tenth State of the City address this morning.
Over 100 long-time Yuma residents and business owners, as well as new faces of the community all coming out for the Chamber of Commerce's Good Morning Yuma Breakfast.
Mayor Nicholls says interacting with the city is what he enjoys most about being mayor of Yuma.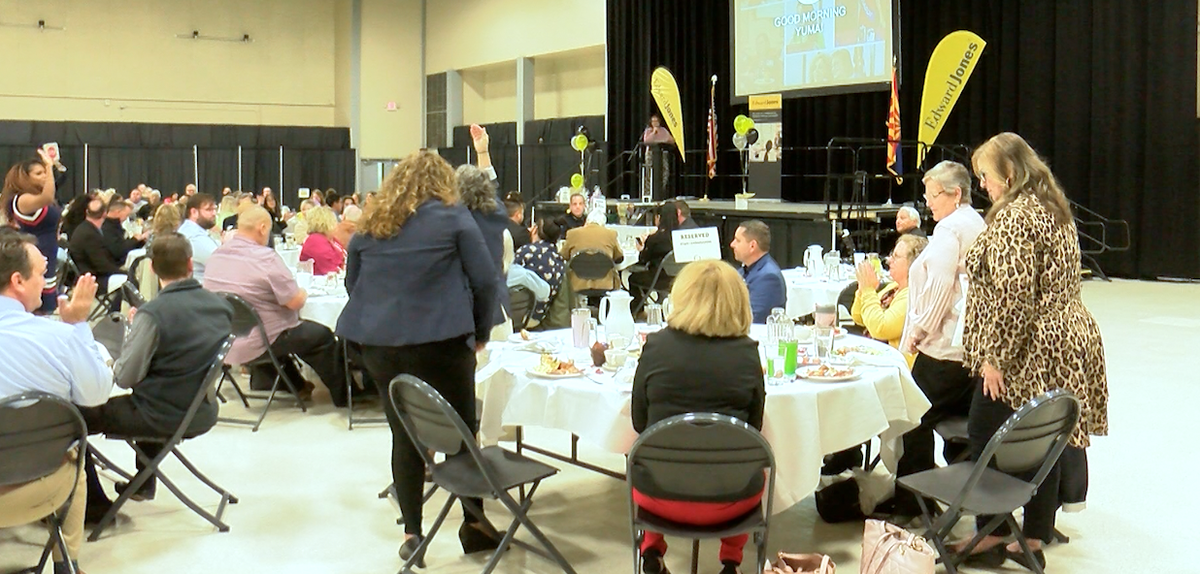 "I don't want to be in a bubble, I want to know truly what everything is," Nicholls said.
Members of the Yuma County Chamber of Commerce made short presentations about their businesses on stage.
The Chamber's Executive Director Kim Kahl says she's thankful to have a good relationship with the city and Mayor Nicholls.
"He does this every year for us and we're thankful he gives his time to the business community," Kahl said.
Mayor Nicholls highlighted investments in public safety, potential plans for a spaceport, and a local Panera Bread coming to town in his speech.
But added he's most proud of the city's effort to implement inclusive playground equipment.
To make sure every Yuman can engage with the city's parks.
"When a parent comes to you and says there's a need for my child to be able to access the parks, but also engage with, we have to be listening to that," Nicholls said.
Mayor Nicholls says the installation of the first inclusive playground equipment in the county will come next month.
The challenges Yuma is currently facing were also top of mind.
As recent visits from D.C. lawmakers to our community have centered around the border crisis.
With local governments hoping border tours will turn into real action from the federal level.
"I think those discussions aren't over, and they need to continue," Nicholls said.
Mayor Nicholls also is inviting Yumans to his 'Community Conversations'.
The meetings will be at different locations from 5:30 to 6:30 p.m.
March 16: Kofa High School Ernest F. Rillos Gymnasium, 3100 S. Avenue A.
March 23: Arizona at Work, 3826 W. 16th St.
April 27: Yuma Readiness and Community Center, 6550 E. 24th St.