15 buildings damaged after peaceful vigil in Phoenix killing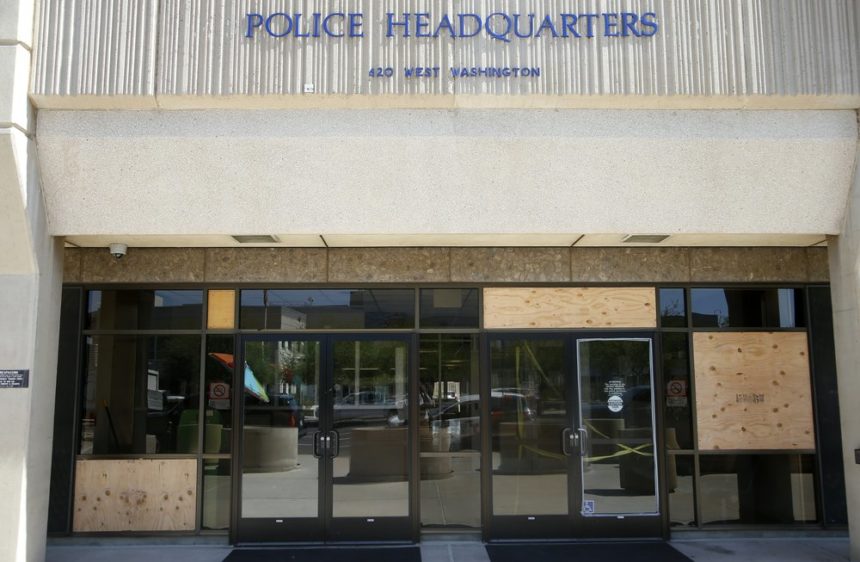 A peaceful vigil for a black man fatally shot in Phoenix by an Arizona state trooper was followed by protesters causing extensive property damage to more than a dozen buildings in the second night of disturbances related to the killing of George Floyd in Minneapolis.
Among the 15 downtown buildings damaged Friday night were federal and municipal courthouses that had at least 20 windows broken and police headquarters, which had two glass front-door windows and two upper-story windows broken, police said Saturday.
City Hall, two theaters and two banks were among other buildings damaged across the heart of downtown, and protesters broke windows and slashed tires of seven police SUVs and attempted to set one vehicle on fire, police said.
Mayor Kate Gallego, the police chief and community leaders said protests are appropriate but that acts of violence and property damage committed by a few were unacceptable and in fact damaging to protesters' concerns.
"We will not stand for this violence and destruction," Gallego said during a news conference. "This is our city, we love this city. We have to work together ..."
Some of the protesters had marched to downtown after attending the vigil held about a mile away for Dion Johnson, who was fatally shot during an encounter with a trooper along a freeway.
As they did Thursday night, Phoenix police Friday night declared an unlawful assembly, an action that ordered people to leave the downtown area where demonstrators had gathered near police headquarters.ADVERTISEMENT
Two people were arrested Friday night, police said. Eight people were arrested in the Thursday night disturbance.
Floyd is the black man who was being held in handcuffs in Minneapolis when a police officer pressed his knee into his neck for several minutes even after Floyd stopped moving and pleading for air. He died Monday. Protests have erupted in U.S. cities in the days since.
Saturday morning in Phoenix, cleanup crews swept up broken glass in front of boarded-up doors and windows as one worker used a power-washer to remove spray-painted messages on a building.
The Rev. Jarrett Maupin, an organizer of the Thursday night protest that preceded the property damage and encounters with police, said another protest was planned Saturday night in downtown Phoenix.
Phoenix "had a riot" Friday night, Maupin told The Associated Press on Saturday. "We're trying to refocus people on nonviolence. Tonight is more of a teach-in and a reach-out," he said.
Police Chief Jeri Williams said Phoenix was asking other law enforcement agencies to provide officers and equipment to bulk up the police presence and that police would be more proactive in moving to disperse an unlawful assembly.
"What we tolerated last night will not be tolerated today," Williams said. "Officers will and must take action to protect the safety of all involved."
Gov. Doug Ducey said in a statement that he and the state Department of Public Safety director were offering support to and coordinating with city officials.
"In the state of Arizona, we will always respect the First Amendment rights of citizens to peacefully assemble and make their voices heard. We will not, however, tolerate rioting, looting, violence, destruction of property or any behavior that endangers the safety or rights of other individuals,"″ Ducey said in the statement, which did not mention the deaths of Floyd or Johnson.
Gallego said Ducey and the Arizona National Guard were supporting the city. But Maj. Aaron Thacker, a National Guard spokesman, said no Guard soldiers have been activated because of the protests and that the mayor's comments likely referred to discussions of possible logistical support by the Guard.
Phoenix police are investigating the fatal shooting of Johnson.
The shooting occurred at about 5:30 a.m. Monday during a struggle after the officer spotted Johnson's parked vehicle partially blocking traffic and found Johnson passed out in the driver's seat, police said.
According to a police statement, a handgun was found at the scene, and the trooper was not wearing a camera. His identity has not been released.
Johnson's mother, Erma, told the Arizona Republic that her son never would have engaged in a struggle with police, and she questioned the police account. "It's a lot of things that I want to know that happened to my son in the last minutes of his life," she said.
Hundreds of people, some wearing masks because of the pandemic, participated in the vigil at Eastlake Park east of downtown.
Williams on Friday night apologized for an earlier statement in which the director of the department's Public Affairs Bureau said news media personnel would be subject to arrest along with other members of the public who refuse to disperse in an area declared an unlawful assembly.
Williams' statement said the department "fully supports the free press and Journalists' right to report the news. In no way do we intend to curtail your right to collect and report the news. We value our relationship with the media."
___
Dion Johnson's last name has been corrected in two references in this story.ADVERTISEMENTTrending on AP NewsPolice clash with protesters in major California citiesCrowd protests white mayor's words about black man's deathFalse news swirls around Minneapolis officer in fatal arrestby TaboolaADVERTISEMENT