These metro areas have the highest life expectancy, how do they do it?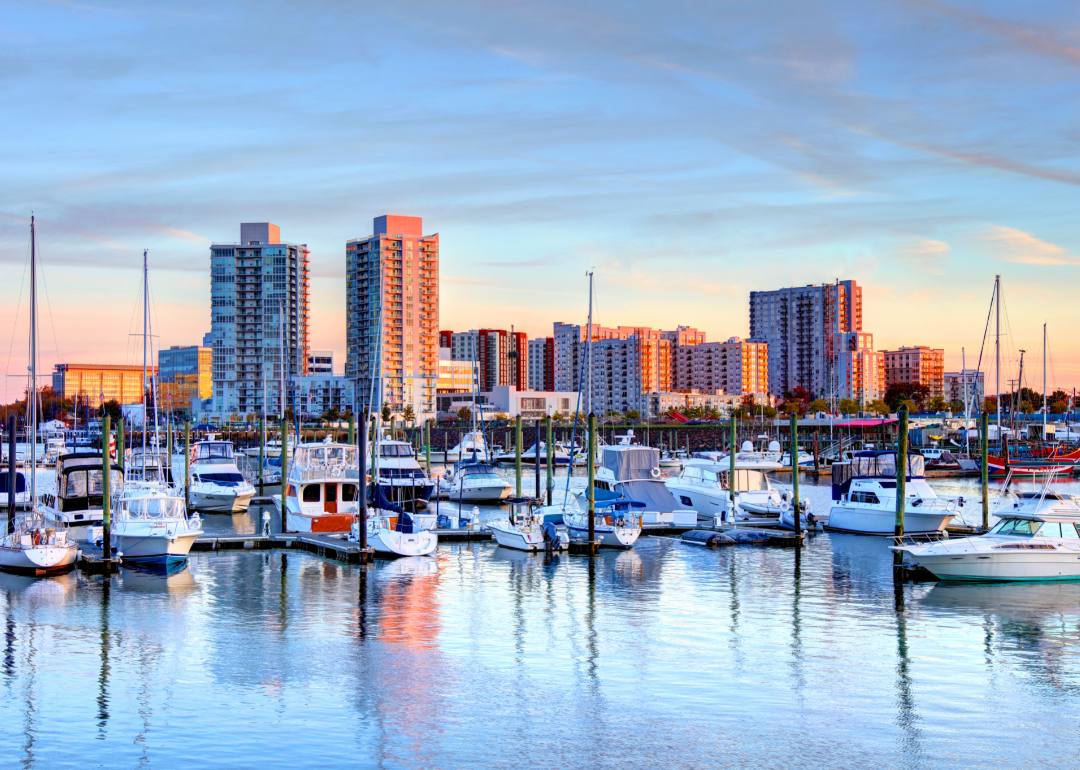 Canva
These metro areas have the highest life expectancy, how do they do it?
A view of Stamford, Connecticut, from the water.
Life expectancy at birth in the United States has experienced a decline in recent years, dropping from 77 to 76.1 from 2020 to 2021, the lowest level since 1996. The average human lifespan varies depending on many factors, including income level, race and even — where you live.
To explore how location affects the average age of death, MoneyGeek looked at the average life expectancy for 119 major metropolitan areas with 250,000 residents or more using data from County Health Rankings and ranked them in order of longest to shortest life expectancy.
Key Findings:
Residents in the Bridgeport-Stamford-Norwalk metro area in Connecticut have the longest life expectancy in the U.S. at 83 years.
Six of the 10 country's metro areas with the longest life expectancy are in California and Florida.
Three of the 5 metro areas with the lowest life expectancy are in Alabama.
Jackson, Mississippi, and Mobile, Alabama metros have the lowest life expectancy among the 119 metro areas we analyzed.
---

MoneyGeek
The 20 metros with the longest average life expectancy
US map showing 20 metro areas that have shorter life expectancies.
At the top of the list of metros with the longest life expectancies is the Bridgeport-Stamford-Norwalk metro area in Connecticut, where the current life expectancy at birth is 83 years. Three metro areas in Florida, including Miami, and three metros in California made it to the top ten. The New York metro area took the fourth spot with an average life expectancy of 82.6 years, while Honolulu, Hawaii, was close behind in the fifth spot with an expectancy of 82.5 years.
Bridgeport-Stamford-Norwalk, CT (83.0 years)
San Francisco-Oakland-Berkeley, CA (82.9)
Los Angeles-Long Beach-Anaheim, CA (82.8)
New York-Newark-Jersey City, NY-NJ-PA (82.6)
Urban Honolulu, HI (82.5)
Miami-Fort Lauderdale-Pompano Beach, FL (82.5)
Cape Coral-Fort Myers, FL (82.5)
San Diego-Chula Vista-Carlsbad, CA (82.2)
North Port-Sarasota-Bradenton, FL (81.9)
Denver-Aurora-Lakewood, CO (81.8)
Washington-Arlington-Alexandria, DC-VA-MD-WV (81.8)
Austin-Round Rock-Georgetown, TX (81.6)
Phoenix-Mesa-Scottsdale, AZ (81.5)
Sacramento-Roseville-Folsom, CA (81.5)
Minneapolis-St Paul-Bloomington, MN-WI (81.4)
Tucson, AZ (81.3)
Boston-Cambridge-Newton, MA-NH(81.2)
Brownsville-Harlingen, TX (81.0)
Chicago-Naperville-Elgin, IL-IN-WI (80.7)
Green Bay, WI (80.7)
---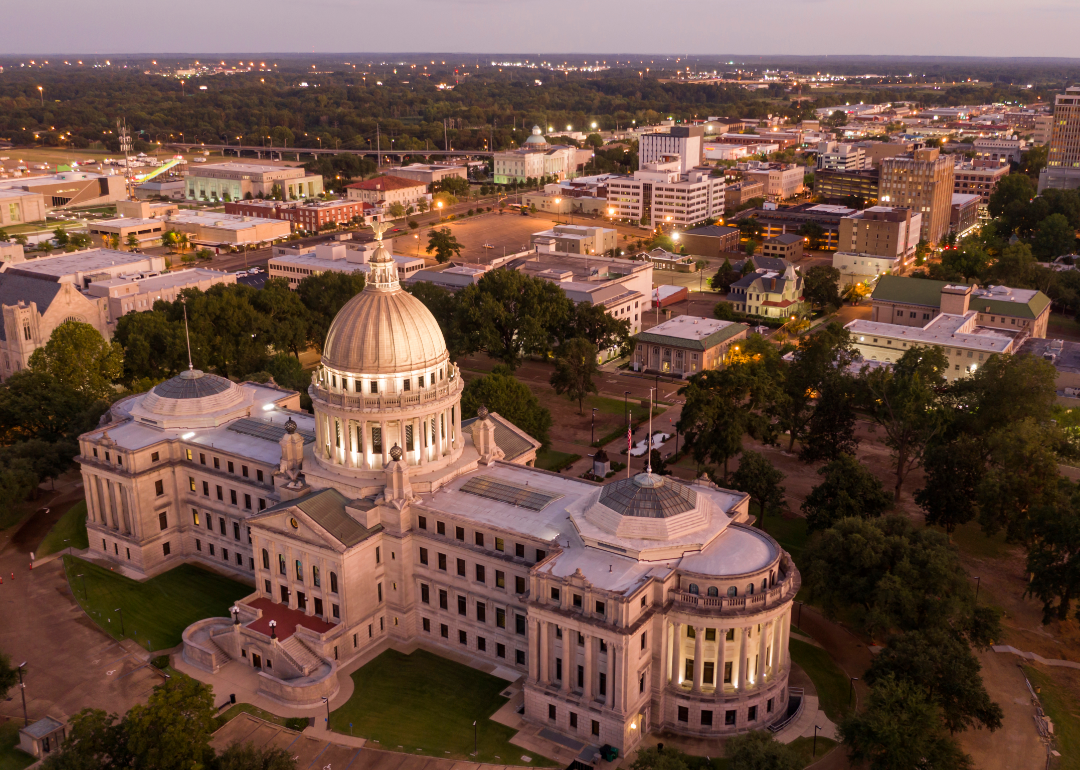 MoneyGeek
The 20 metros with the shortest life expectancy
Aerial view of Jackson, Mississippi.
MoneyGeek's study showed that the average human lifespan for people living in some cities in the southeastern United States is five to ten years less than those in the top ten metro areas. In fact, all ten metros with the shortest life expectancies were in the Southeast. Jackson, Mississippi, and Mobile, Alabama, tied for the worst metros overall, with the average age of death at 74.4. 
Jackson, MS (74.4 years)
Mobile, AL (74.4)
Birmingham-Hoover, AL (74.6)
Montgomery, AL (74.7)
Beaumont-Port Arthur, TX (75.2)
Memphis, TN-MS-AR (75.5)
Knoxville, TN (75.5)
Little Rock-North Little Rock-Conway, AR (75.6)
Spartanburg, SC (75.9)
Chattanooga, TN-GA (76.0)
Jacksonville, FL (76.1)
Scranton–Wilkes-Barre, PA (76.1)
Greenville-Anderson, SC (76.2)
Roanoke, VA (76.2)
Lynchburg, VA (76.3)
Savannah, GA (76.3)
Amarillo, TX (76.3)
Lafayette, LA (76.4)
Shreveport-Bossier City, LA (76.4)
Tulsa, OK (76.4)
---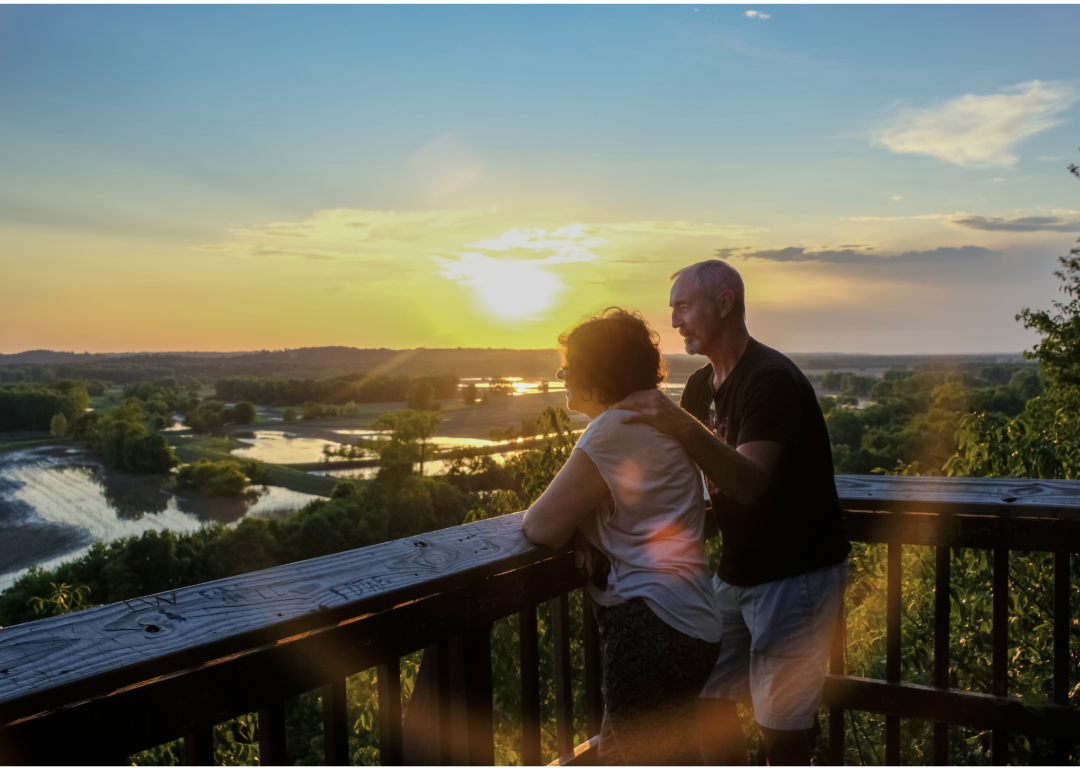 Canva
Factors that impact life expectancy in the US
Older couple looking at a sunset from a deck.
So, why did overall life expectancy at birth decline, and why are the rates so much lower in certain parts of the country than others? In addition to the 0.9-year drop in 2021, research from the Centers for Disease Control (CDC) shows that nationally, American life expectancy went down by 1.8 years in 2020. The last time such an extreme two-year decline was recorded? 1921 to 1923.
Breaking down these statistics even further, women's life expectancy from 2020 to 2021 fell from 79.9 to 79.1 years, while men's dropped from 74.2 to 73.2 years. Racial disparities tell an even more dire story, as non-Hispanic American Indian and Alaskan Native individuals saw a 1.9-year drop in life expectancy to 65.2 years, while life expectancy for non-Hispanic Black people fell from 71.5 years in 2020 to 70.8 in 2021.
The overall cause of these dramatic declines, according to the CDC, is a large number of deaths due to the COVID-19 pandemic. An increase in accidental deaths, including drug overdoses, also contributed to the reduction in life expectancy.
The much lower average lifespan among many ethnic groups, as well as the lower life expectancy rates MoneyGeek found for metro areas in the southern United States, can partly be explained by social determinants of health. People born into poverty have fewer financial resources, are more likely to experience food insecurity and often lack access to decent health care.
Overall, the United States ranks well below other wealthy countries in terms of average life expectancy. This is due not only to America's higher death rates from COVID-19 and lower vaccination rates but also to the lack of universal health care. The number of Americans without health insurance represents around 12% of the general population, and without health insurance, one trip to the hospital for an emergency could bankrupt you.
---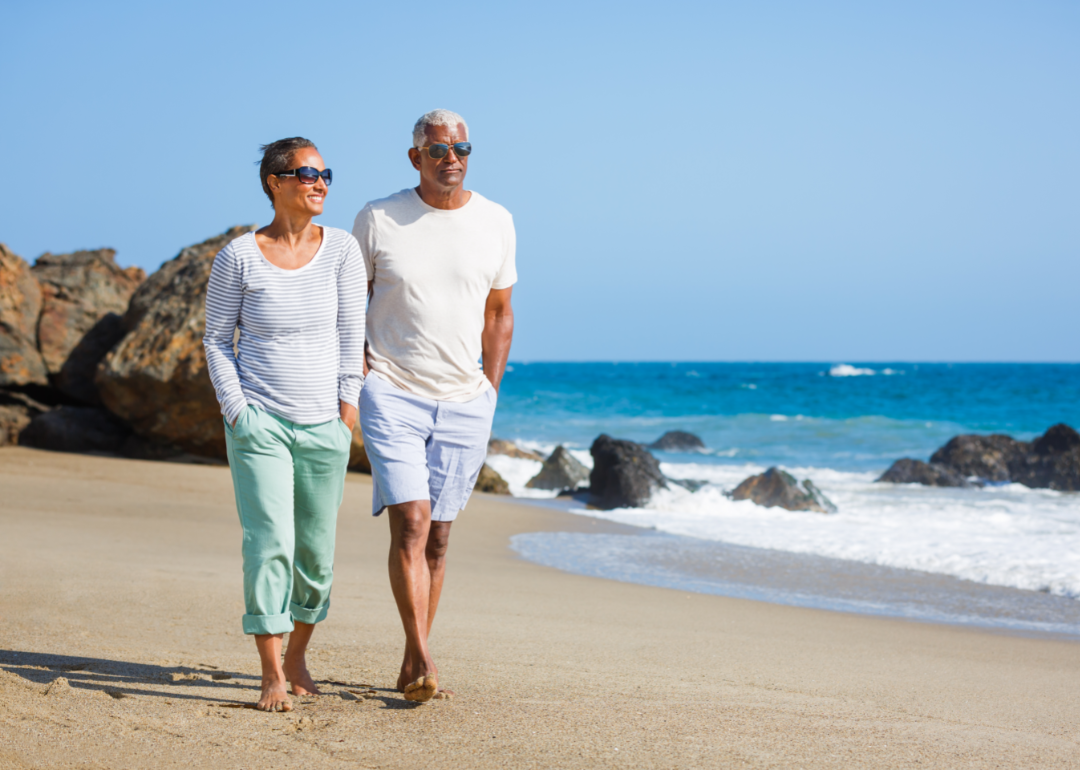 Canva
What you can do to protect your family's financial future and live a longer, healthier life
An older couple walking together along a beach.
Especially for those who live in parts of the country with lower life expectancies, preventive care and eating healthy despite rising food costs are essential in living a long and productive life. Making sure to have full health insurance coverage is also important. The average cost of health insurance is about $477 for a 40-year-old individual. However, you may be eligible for subsidies, depending on your income or employer-sponsored programs, depending on your employer.
Finding low-cost health insurance may seem complex, but for those not eligible for Medicaid or Medicare, your state's Health Insurance Marketplace likely offers the most affordable options. Beyond that, seeking out quality life insurance to support your family if something happens to you is also a good idea, and many top life insurance companies offer solid coverage at affordable prices. The best life insurance for seniors can cover end-of-life expenses and ensure that the deceased's assets get passed onto survivors and are not lost to outstanding debts or other outstanding payments.
Methodology
MoneyGeek analyzed 2021 data from County Health Rankings and calculated the average life expectancy for major metropolitan areas with 250,000 residents or more. Using this information, we ranked these metros in order of longest to shortest life expectancy.
SOURCES
This story originally appeared on MoneyGeek and has been independently reviewed to meet journalistic standards.
---