Capping off a historic run!
Gila Ridge football honored at postseason banquet.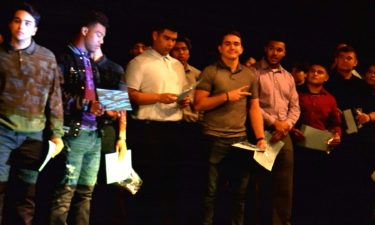 Even if the 4A state semifinal loss was bitter, the fall campaign as a whole was sweet for the Gila Ridge Hawks football team.
Led by 26 seniors, the Hawks soared their way through the greatest season in the program's 12 years of existence.
All for the 1st time ever; Ridge finished at 11-2 overall, the won the 4A Southwest Division and they made it to the semifinals of the state playoffs.
The Hawks also are the 1st area public school program to win a 1st round playoff game in 54 years.
On Monday night, those accolades and more were given to the Hawks.
In the banquet awards ceremony, among the night's award winners Anthony Mejia-Acosta won the Defensive Most Valuable Player honor.
Senior star running back Renan Duarte won the Offensive Most Valuable Player award.
Head Coach John Ellegood hopes that this epic ride is the start for bigger things to come for Gila Ridge football:
"This senior class, this 2019 varsity football team as a whole set a new standard for what Gila Ridge really can be and what we can accomplish when we work together and we sacrifice for one another. So, knowing that we can do this; it's no longer a first anymore. These are now expectations. And that's how we're going to treat it moving on. And hopefully, we can even improve from what we did this year."