Congratulations SDSU Imperial Valley Class of 2021
Outstanding Graduate and Academic Excellence Awards honor graduates
IMPERIAL, Calif. (KYMA, KECY) - After braving a year of pandemic-induced challenges, the class returned to the campus parking lot on Monday for another first in San Diego State University (SDSU) Imperial Valley history: a unique, vibrant and festive drive-through ceremony, or "carmencement."
A separate "carmencement" was held Tuesday for the SDSU Imperial Valley Class of 2020, which had been honored in a virtual ceremony last year, but had never had an anticipated in-person event due to continued pandemic closures.
The Class of 2021, 361 students strong, is among the largest in campus history. Class members showcased their individuality and spirit in colorfully decorated cars that proceeded along a proscribed route to where graduates, one at a time, took to the event stage for photos.
Two students in the class of 2021 were recognized for their special achievements.
Hailey Bourland received the Academic Excellence Award, and Ashley Vogel was named the Outstanding Graduate in recognition of her academic achievement and service to the community and campus. Vogel named SDSU Imperial Valley history Professor Gilberto Reyes as her most influential professor.
In a videotaped message to her classmates, Bourland thanked her family, professors and classmates for their support.
"These last four years wouldn't have been as meaningful without you in my life," she said.
Bourland's videotaped message added that one of her favorite memories of college was being involved in group projects.
"It was through that work I really got to know my peers," she said. "I love that we got to learn from each other and really got to know our strengths."
Vogel graduated with a degree in social science, single subject teaching. She plans to attend SDSU in the fall to study for her master's degree in education with a concentration in counseling.
Initially, she intended to become a history teacher, but she said that changed as she took Chicano Studies courses and began to see the world differently.
"I had an awakening, a realization that things can change," she said. "I love this Valley so much that I just didn't see. I learned so much about the crises we are in. It really opened my eyes. We do not have to accept things as they are."
She said she named Reyes as her most influential professor because he has a profound effect on his students.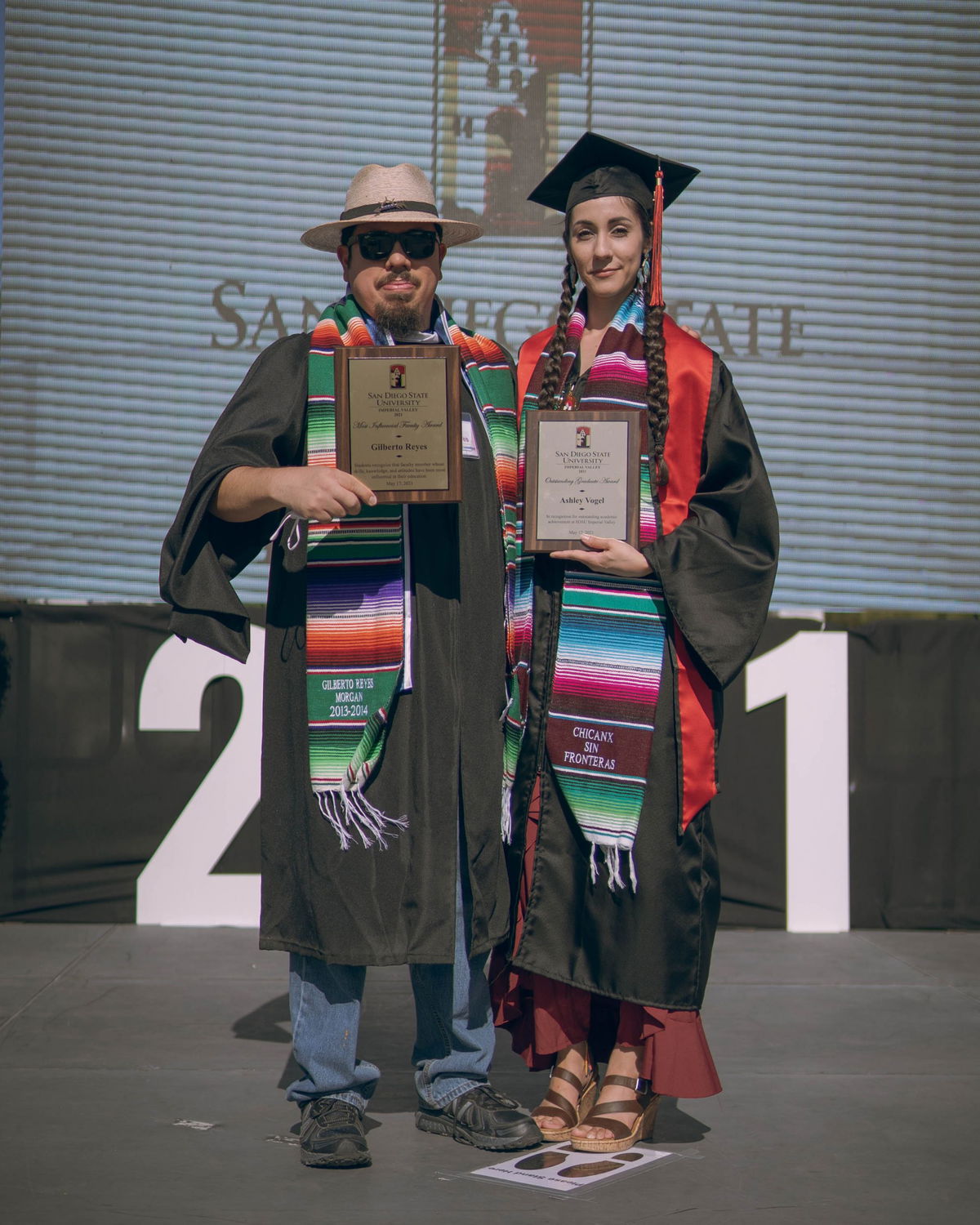 "He is from here, so he relates to the students," she said. "His lectures are very passionate and inspiring. He was a key influence in my decision to get involved."
Vogel was one of the students to start a student organization called Chicanx Sin Fronteras in 2019. She said the idea of the organization grew out of a topic discussed in Reyes' class one day and it "brings together students who hold the same community values and concerns."
Even during the pandemic, the group continued to meet and work for change, she said. Among other things, the group has met with campus administration to encourage the creation of a Chicano-focussed major at SDSU Imperial Valley.
Reyes was full of praise for Vogel and all she has accomplished.
"She is hardworking, friendly and intelligent," he said. "But even more, she is really sensitive and empathetic to all who face discrimination."
He recalled an incident in which Vogel came to the aid of a fellow student who was distraught because she had not even started an assignment due the following day. With Vogel's help, the student turned in the project on time.
Vogel's accomplishments are even more impressive for the fact that she has three children, two in elementary school and a 4 1/2 -year-old.
"It was quite a rollercoaster ride – especially during the pandemic," she said. "I am grateful for the insights I've gained. I feel more sure of the path I'm taking now."