Yumans try to beat the heat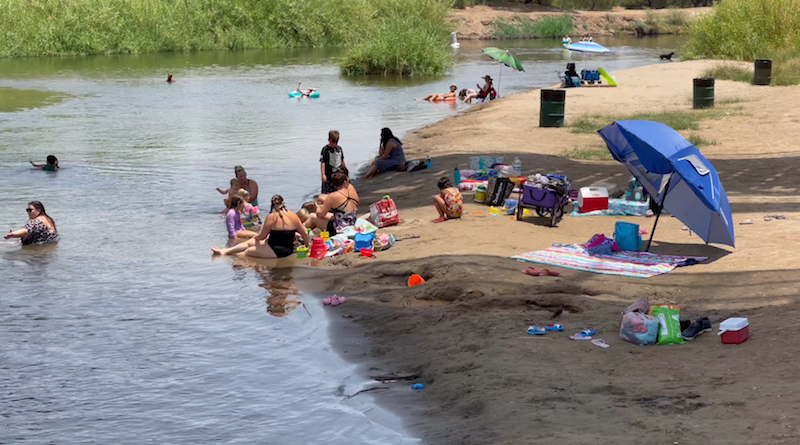 News 11's Adonis Albright speaks with locals and visitors to see how they're cooling down
YUMA, Ariz. (KYMA, KECY) - It's starting to feel a lot like summer in the Desert Southwest, with an excessive heat warning that will remain in effect for Yuma and Imperial County through the weekend, bringing with it potentially record-breaking triple digit temperatures.
Whether you're making a splash in the water at the Colorado river, or soaking in the sunshine out in town, locals are feeling the heat one way or another.
"It's a dry heat, the humidity just makes you sweat, sticky and yucky. This is a dry heat so yes it's hot, but you don't have the sticky humidity", said one woman who recently moved to Yuma and was with family visiting from Michigan.
But the fun in the sun also comes with the potential of heat exhaustion. For those new to the region, the signs could be hard to spot.
"Things like a headache, or it might be nausea, weakness, extreme perspiration. Things along those lines", said Mike Erfert with the Yuma Fire Department (YFD). He says the best way to avoid any heat-related illnesses is to stay out of the sun, and most importantly, stay hydrated.
Yuma County has designated cooling centers around town to help residents get out of the sun and stay hydrated. Each location provides AC, shade and free access to water.
"Actually yesterday was one of the worst days. This season, this summer is honestly to be one of the worst I've ever experienced", said Amani Cortez, a Yuma local.
The excessive heat warning remains in effect until Saturday at 8 p.m., according to the National Weather Service. For more resources about surviving the heat, head over to the county's website.