How is YPD building trust with the community?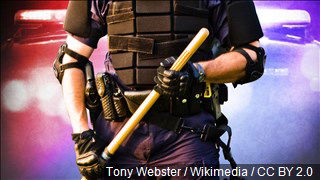 YUMA, Ariz. (KYMA, KSWT, KECY) - Tuesday's shooting in New Jersey is another example of a police officer being killed in the line of duty.
Last week, 18 officers reportedly fired their guns in the UPS truck hijacking in South Florida, according to CNN.
Unfortunately, these incidents can happen anywhere at anytime and for safety precautions, the Yuma Police Department (YPD) recently purchased new bullet proof vests for officers.
"It's something they have available to them," said Sergeant Lori Franklin with YPD. "Say we have an active shooter at a school, business or even out on the streets, it's a thicker vest that will protect them from those larger rounds."
It may seem that police are becoming more violent, but it doesn't jeopardize a local man's trust in law enforcement.
"I think police officers put themselves on the line for us and whenever they're involved in these types of situations, they're acting fast," said Yuma resident, Robert Misemer. "If someone gets hurt, it's unfortunate but they're just doing their job and what they're trained to do."
To maintain a trusting relationship within the Yuma community, YPD is constantly out in the public and not just for 911 calls.
"We go to schools and interact with the kids, we go to trailer parks," Sgt. Franklin said. "We have a really good reputation in the community."
Misemer said YPD's efforts don't go unnoticed.
"YPD certainly supports the community with their police actions and the community I think supports YPD," Misemer said.
Sgt. Franklin said the community is very active with YPD's Facebook page and events it puts on.
As for active shooting situations, she said that it's easy for officers to get relaxed when things are going well. However, these recent events across the country bring reality back to YPD officers.