One dead in RV accident on Interstate 8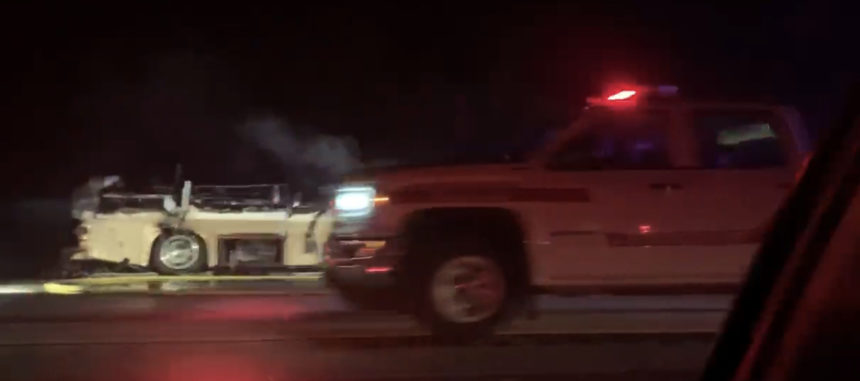 Update - Monday, December 2, 2019 - 2:31 p.m.
HOLTVILLE, Calif. (KYMA, KSWT, KECY) - The California Highway Patrol has released new details on Sunday evening's deadly crash on Interstate 8.
The CHP says a Cadillac CTS rear-ended a Gulf Stream travel trailer just east of Bonds Corner around six in the evening. Officers say when they arrived they found both vehicles engulfed in flames.
The driver of the Cadillac did not survive the crash. The CHP says she died of blunt force trauma. Officers have not released her name, but they do say she died of blunt force trauma.
Paramedics took the driver and three passengers inside the Gulf Stream to El Centro Regional Medical Center. None were critically injured. All are from Peoria, Arizona.
KSWT's Christian Galeno is in Holtville learning more about this developing story. Look for his updates on 13 On Your Side at 3/4 p.m. and 5/6p.m., and here on KYMA.com.
HOLTVILLE, Calif. (KSWT/KYMA/KECY) - One person is dead and 3 suffered minor injuries in a vehicle and RV accident on the eastbound lanes on Interstate 8.
California Highway Patrol is confirming that the person that died was in the vehicle as well as that the accident happened east of Bonds Corner at around 6:00 pm (PST).
I-8 eastbound remained stalled while first-responders arrived at the scene. CHP is diverting traffic from the eastbound lanes on to the center divider while the wreck is investigated and cleared.
The identities of the victims have not been released.
No word yet if this was DUI related.
This is still a developing story and we will update it as more information is made available.