Thousands are without power after storm spawns tornadoes in the South and brings snow to Midwest and Northeast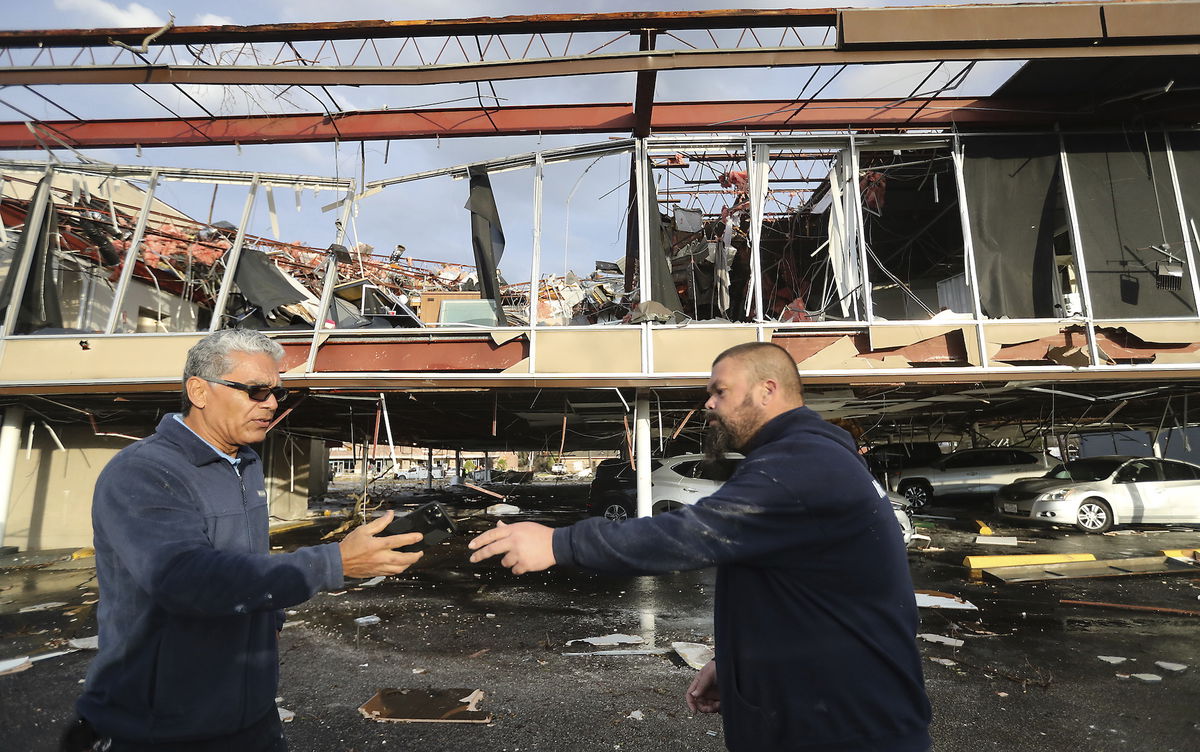 By Aya Elamroussi, CNN
Tens of thousands of people were in the dark early Thursday morning after a storm system spawned tornadoes in the South and delivered snow to parts of the Midwest and Northeast.
More than a dozen reported tornadoes struck across communities in Texas and Louisiana, damaging many properties as windows and roofs were blown off buildings. Meanwhile, the heaviest of snowfall fell across parts of northwestern Arkansas, southern Missouri and eastern Oklahoma.
Following the storm, more than 100,000 homes and businesses across Arkansas, Missouri and Texas did not have power as of 4 a.m. ET Thursday, according to the tracking site Poweroutage.us. Arkansas had the most outages at more than 70,000.
Meanwhile, winter weather conditions in Massachusetts has left nearly 10,000 homes and businesses without power early Thursday, according to Poweroutage.us.
Officials in Maine informed residents to be prepared for a nasty commute Thursday as snow accumulations can reach up to 10 inches.
"We are monitoring the third significant storm this month," said Peter Rogers, who heads the state's emergency management agency. "Due to the mixed precipitation, we anticipate unsafe driving conditions, and we also urge folks to be cautious while shoveling out from the storm."
Officials announced a storm that hit New England last weekend may be responsible a woman's death in Vermont.
Vermont State Police reported a 76-year-old woman was found dead outside her home in Rupert as a storm dropped several inches of snow. It appears she died from exposure after falling, police said. The medical examiner's office is conducting an autopsy.
As wintery conditions also swept across parts of the Midwest, the snowstorm led to dozens of car crashes in Indiana, where some individuals suffered injuries, state police said.
Tornadoes rip through Texas, Louisiana
On Tuesday, the storm inflicted extensive tornado damage to the Houston-area communities of Deer Park and Pasadena, where downed trees and debris littered streets and thousands were without power after lines were knocked down.
The National Weather Service preliminarily rated the tornado as EF-3, with a maximum wind speed of about 140 mph. It was up to two-thirds of a mile wide and stayed on the ground for 18 miles, according to a tweet from the NWS in Houston.
"We've seen plenty of damage. We've seen buildings that have collapsed," Pasadena Mayor Jeff Wagner said.
Josh Bruegger, the city's police chief, described the damage as the worst he has seen in 25 years, adding, "For the coming days, we're going to have our hands full."
In Deer Park, people who were at St. Hyacinth Catholic Church hunkered down in a hallway and closed all doors as they heard what they believe to be a tornado roll through the area, Father Reginald Samuels said.
"It got really loud, we heard glass breaking, and the building was shaking then it was calm," Samuels told CNN, adding that no one was hurt.
Damage was also reported at a Deer Park nursing home, prompting the evacuation of about 60 residents Tuesday afternoon, Mayor Jerry Mouton told CNN. There were no reports of injuries, according to Jerry Dilliard with the Atascocita Fire Department. CNN reached out to the nursing home's operator Tuesday for more information.
As clean-up efforts are underway in Deer Park, schools in the city will close Wednesday, the district said.
"We hope this will give families a chance to recover from the stress of today's events, and we believe it is best for children to be with their parents or guardians after a natural disaster," the district said in a statement sent to parents and employees Tuesday night.
"It appears many homes and businesses in our area were damaged, and some neighborhoods remain without power at this time," the statement continued.
Photos of damage in Deer Park show tree limbs lying on roads, roofs flown off buildings and damaged vehicles.
As of Wednesday, at least 17 tornadoes had been reported across southeastern Texas and southwestern Louisiana, with three reported in Florida.
In Louisiana's Beauregard Parish, the sheriff's office reported significant damage to homes and other buildings, noting that roads were blocked and power lines were down. Nearly 16,000 homes and businesses were also without power in Louisiana early Wednesday morning.
Overall, there were no reports of serious injuries associated with Tuesday's storm damage, with Pasadena officials reporting one injury.
The-CNN-Wire
™ & © 2023 Cable News Network, Inc., a Warner Bros. Discovery Company. All rights reserved.
CNN's Andy Rose, Robert Shackelford, Jamiel Lynch, Amanda Jackson, Taylor Ward, Joe Sutton and Jillian Sykes contributed to this report.