Shamrock baseball lights up 3A honors with Topete leading the charge as Region Player of the Year
Yuma Catholic baseball lands three All-Conference honors on top of seven All-Region nods
YUMA, Ariz., (KYMA, KECY) - Following another run to the 3A state semifinals in back-to-back seasons, the Yuma Catholic Shamrocks made some noise in the end of the year honors.
The Rocks topped off seven total All-Region nods - even three names landing in the All-Conference category for their excellence in 2023 after already doing some damage in the 3A West Region awards.
Leading off, the three All-Conference stars to make the list:
3A BASEBALL
3A All-Conference 1st Team
Nomar Topete - Yuma Catholic (Position Player)
10-1, 1.96 ERA, 93 K's
.470, 47 hits, 33 RBIs, .590 slugging %
Mickey Fox - Yuma Catholic (Pitcher)
8-3, 2.11 ERA, 89 K's
.464, 32 hits, 26 RBIs, .637 slugging %
3A All-Conference 2nd Team
Ivan Guzman - Yuma Catholic (Position Player)
.444, 44 hits, 29 RBIs, 26 runs, 7 stolen bases
And now to the 3A West Region where the Shamrocks made a big splash of top awards after a perfect (10-0) in region play.
3A West Region Coach of the Year
Judd Thrower - Yuma Catholic
Thrower takes the cake as the top head baseball coach in the region in 2023 - doing it in just his first full season at the helm after taking over early on in 2022. Nonetheless, he led the Shamrocks to another 20-win season and second straight state semifinal run - coming up just one win away from the title game each time.
3A West Region Defensive Player of the Year
Mickey Fox - Yuma Catholic
Fox was a flame thrower on the hill for the Shamrocks this season, getting the DPOY award in the region and earning a nod as an All-Conference 1st Teamer as just a sophomore. Despite also hitting .464 at the dish, Fox shined on the mound sporting a 2.11 ERA over 56.1 innings pitched - sitting down 89 batters on strikes which resulted in eight wins.
3A West Region Player of the Year
Nomar Topete - Yuma Catholic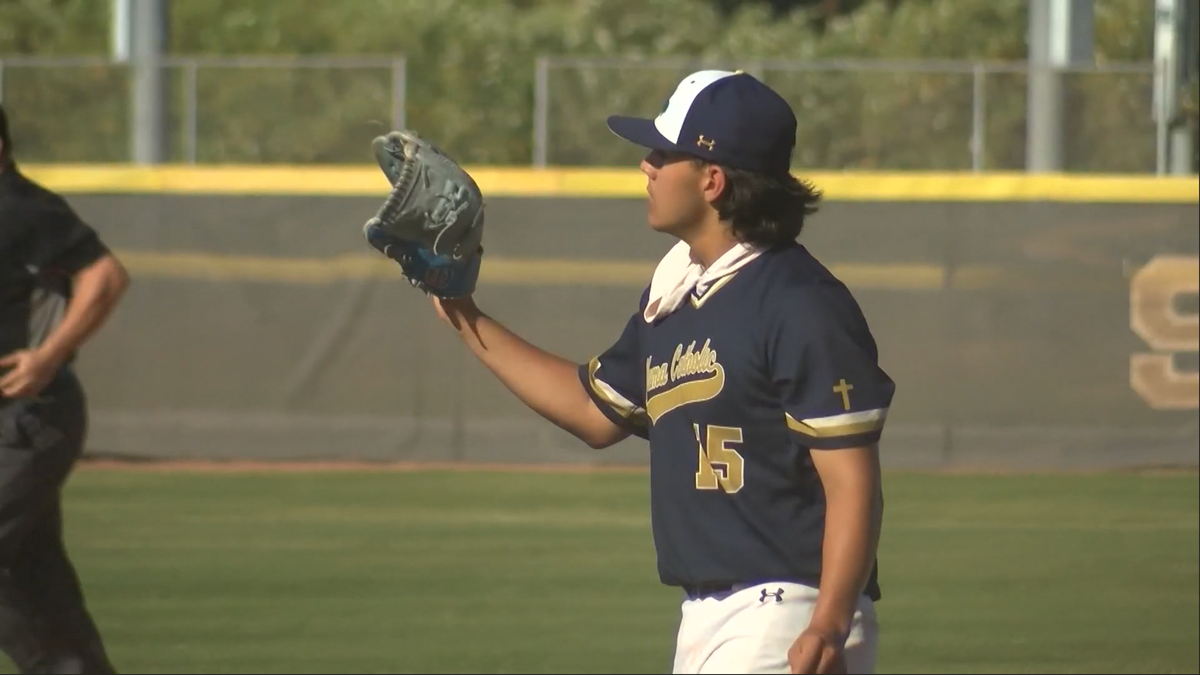 Headlining the 2023 season for Yuma Catholic baseball was senior Nomar Topete - turning in an explosive year both on the mound and at the plate.
Topete lit up batters with 93 strikeouts over 53.2 innings pitched - where he went 10-1 and had an impressive ERA of just 1.90. At the plate, Topete sported a .470 clip with a team-leading 47 hits and 33 RBIs.
On top of the incredible stat-line and reeling in some of the top accolades, Topete also went out in his Shamrock uniform for the last time with a bang in the 3A Senior Game - walking away as the game MVP, tossing two scoreless innings and collecting two hits.
"It feels special because all my work's paying off with my dad and my brothers. Everything is coming together," said Nomar. "It's definitely a confidence booster but it's not like you can just say 'oh I'm really that good' because I know that college is a lot harder and this is only high school. Either way, it was a great experience and emotional putting that jersey on one last time."
Right alongside him was teammate, Anthony Carrillo, who made the 3A West All-Region 2nd Team despite missing a large chunk of the year due to injury. Still, Carrillo represented well with two hits of his own on the day and learned a ton from playing in Goodyear on that stage.
"I thought it was a really good experience. I think definitely meeting some of the competitors I'm used to facing and building a bond with some of those guys, also just being coached with some new coaches, it was truly a unique experience," said Anthony. "I had a lot of fun. I finally got to play baseball not having to worry about winning a championship, but just enjoying the game for itself. So, it was a remarkable experience."
3A West All-Region 1st Team
Nomar Topete - Yuma Catholic (Position Player)
10-1, 1.96 ERA, 93 K's
.470, 47 hits, 33 RBIs, .590 slugging %
Mickey Fox - Yuma Catholic (Pitcher)
8-3, 2.11 ERA, 89 K's
.464, 32 hits, 26 RBIs, .637 slugging %
Ivan Guzman - Yuma Catholic (Position Player)
.444, 44 hits, 29 RBIs, 26 runs, 7 stolen bases
3A West All-Region 2nd Team
Daniel Ruiz - Yuma Catholic (Catcher)
.412, 33 hits, 25 RBIs, .974 fielding %
Erik Topete - Yuma Catholic (Position Player)
.412, 33 hits, 24 RBIs, 13 stolen bases
Anthony Carrillo - Yuma Catholic (Position Player)
.333, 19 hits, 19 RBIs, 6 stolen bases, 1.000 fielding %
Honorable Mentions
Leonel Avelar - Yuma Catholic
.279, 17 hits, 16 RBIs, 1.000 fielding %
Joey Carey - Yuma Catholic
.347, 26 hits, 16 RBIs, 5 stolen bases