YUHSD to host sports physical event, YRMC announced as partner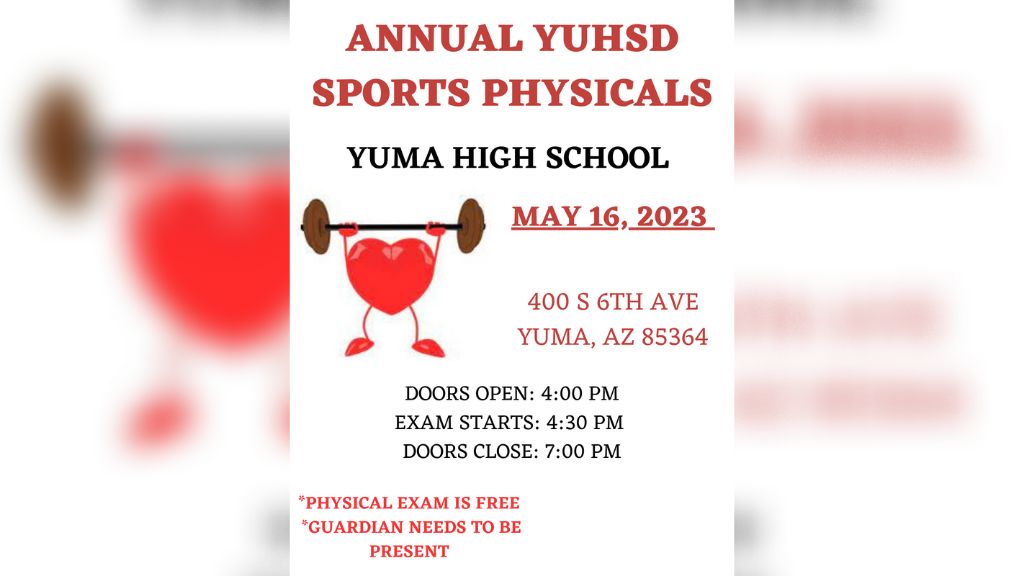 YUMA, Ariz. (KYMA, KECY) - The Yuma Union High School District (YUHSD), in collaboration with the Yuma Regional Medical Center (YRMC), will host a free sports physical event.
According to a press release, the event will take place on May 16 at Yuma High School's Palace Gym. The event is open for all YUHSD student athletes.
YUHSD also said that the doors will open at 4:00pm and Dr. Ryan Zerr and his colleagues will provide the exams from 4:30pm to 7:00pm. Parents and guardians must be in attendance, per YUHSD.
"The partnership between YUHSD and YRMC provides student-athletes with free sports physicals so that they can participate safely," YUHSD Athletic Trainer Shannon Carmody said.
"It is a great resource for families to take advantage of if they have students interested in participating in sports throughout the 2023-24 school year. We are so thankful to have supportive doctors willing to help out at this event."
For further context, a physical is required for student athletes to participate in Arizona Interscholastic Association (AIA) competition. YUHSD further said that that all completed physical exams will cover the student athletes for the 2023-24 school year.