Every year, 'Invasion Day' forces Australia to confront some painful truths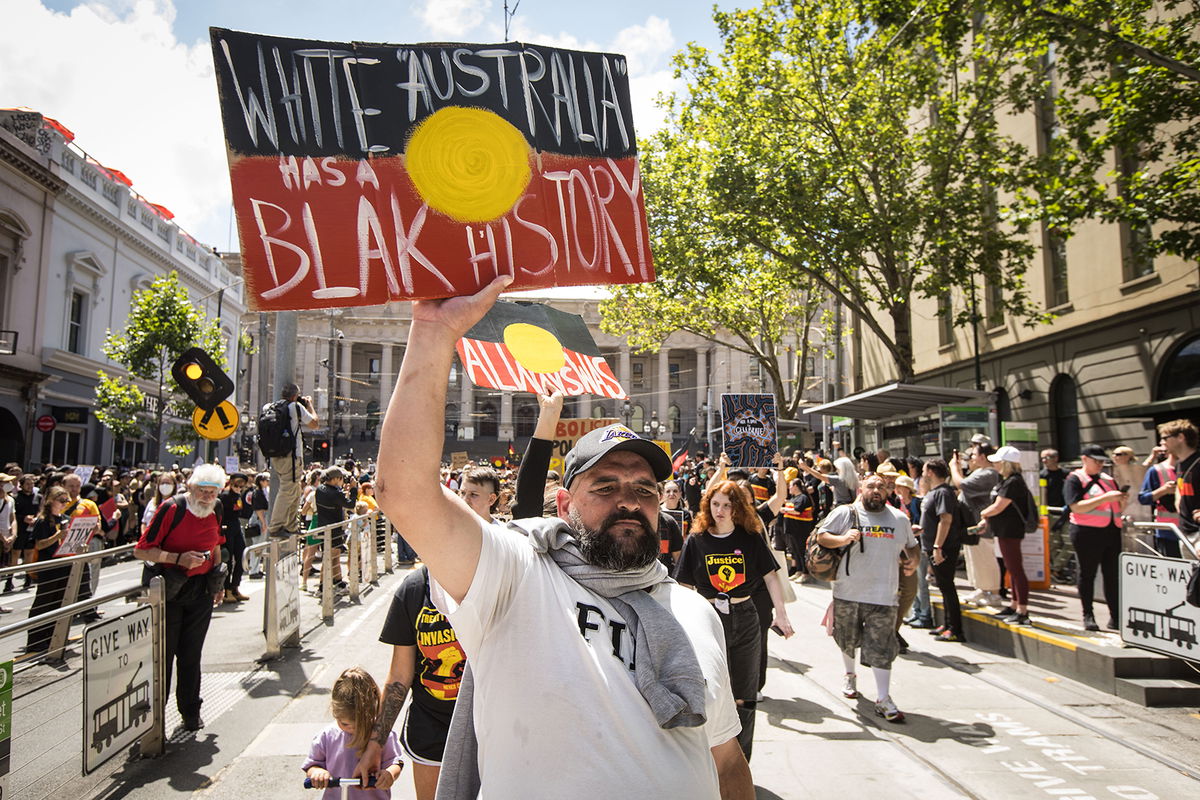 By Hilary Whiteman, CNN
Musician Fred Leone sings traditional songs to the steady beat of clap sticks that echo through the empty streets as the sun rises on what he calls a "hard day for Blackfellas."
Leone invited strangers to light candles in a central Brisbane park on January 26, a date Australia's Indigenous community views each year with dread, as it marks the arrival of British settlers, and the start of suffering for generations of their people.
"There's nothing to be proud about in the sense of the foundations of the country," said Leone, a descendent of the Butchulla and Garrwa people.
On January 26, 1788, the Union Jack was raised at Sydney Cove, beginning the European colonization of a country occupied by the world's oldest continuous culture for more than 65,000 years.
In 1938, Indigenous activists in Sydney declared January 26 a "Day of Mourning," yet for decades, the nation toasted its success as a young, vibrant multicultural country — waving Australian flags, drinking beer and lighting barbecues — as the country's original occupants sank deeper into poverty, their lives mired in discrimination.
But some recent notable developments suggest change is coming, said historian Kate Darian-Smith, from the University of Tasmania. "It's always been something of a day of protest, certainly throughout the 20th century into the 21st century. But to me, it seems to be ramping up," she said.
This year the federal government and some large companies told employees they could work on January 26, once a hallowed day off. Victoria's state government called time on Melbourne's Australia Day parade after two years of Covid cancellations, and Kmart, a normal go-to for party supplies, announced it wouldn't be stocking traditional Australia Day merchandise — clothing, plates, napkins and other memorabilia draped in the Australian flag. A Kmart spokesperson said in a statement that the company aims to "foster an environment that is inclusive and respectful."
Rival political parties criticized the governments' decisions, while angry customers threatened to boycott Kmart stores, with one commentator accusing the company of falling into a "woke left trap." In one local community group, a Facebook post wishing everyone "Happy Australia Day" set off an argument over whether it was harmless fun or a celebration of genocide.
Increasingly, how Australians mark January 26 has become an indicator of their politics and attitudes to the country's colonial past. And this year, those opinions are more pertinent than ever as citizens prepare to vote in a referendum that will determine their relationship with Australia's Indigenous people for decades to come.
Invasion Day rallies
About 30 people sit on the damp grass around Leone's candles at Musgrave Park in central Brisbane, the silence only broken by his singing and the hum of a city waking up.
Christine Cooper, a 60-year-old White woman, is there, having arrived just before 4 a.m. to do something "more healing" than joining the protest rallies she's been attending for years.
"I just felt like it wasn't getting anywhere," she whispered in the dark.
Cooper is among a growing band of Indigenous allies who now refer to Australia Day as Invasion Day or Survival Day, after learning more about the nation's history from those who suffered.
Using archive material, researchers from the University of Newcastle recently identified the site of more than 400 frontier massacres, defined as deliberate attacks on "six or more undefended people in one operation," carried out by colonialists between 1788 and 1930. It's estimated that more than 10,000 Indigenous people died.
"While some frontier massacres were widely publicized, in most cases a code of silence was imposed in colonial communities in the immediate aftermath," the researchers said.
As the Indigenous population shrank, strict controls were placed on almost every aspect of their lives. Later, attempts were made to assimilate them by taking their children, and today, the grief of broken families runs deep.
For a long time, Australian history was viewed through a colonial lens.
"I was brought up in a generation where we weren't educated about anything of our First Nations history," Cooper said. "And I feel like I was denied that history and that knowledge."
Hours later, Cooper's pre-dawn whispers about Australia's dark past boom through a microphone as speakers address hundreds of people gathered for an Invasion Day march through Brisbane's city streets. "Always was, always will be, Aboriginal land," the crowd echoes in response.
Similar scenes played out at Invasion Day rallies across the country, while thousands of others attended parties, concerts and other events to mark the day — some with an Indigenous element, and some without.
Around 812,000 people in Australia identify as Indigenous, just 3.2% of the country's population of 25 million. Yet they're grossly overrepresented in prison populations and have poorer education and health than most other citizens.
Every year, Australia Day — or Invasion Day — forces a difficult conversation about those left behind, and what role everyone can play in finding a way forward.
"It's very uncomfortable for all of us, but it does at least focus us on our past, on colonization, on what our society is, on what we might want it to be, and how we, particularly on this day, see and understand and recognize the experiences of First Nations people," Darian-Smith said.
In the last few years, the National Australia Day Council (NADC), a not-for-profit government-owned company, has attempted to bring people together around the day with community grants of up to 20,000 Australian dollars ($14,000) for Australia Day events — and an extra 10,000 Australian dollars for functions that include an Indigenous element, for example, cultural performances and smoking ceremonies, where native leaves are burned to cleanse bad spirits.
Karlie Brand, chief executive of NADC, said the extra funding aims to "have the voice of Aboriginal people heard at that local level."
"It doesn't have to be a voice that is only seeing Australia Day through the prism of positivity," she said. "It's allowed to be a day that is difficult and raw. And it really is for many."
Bringing people together
In Newcastle in New South Wales, Tracey Hanshaw, from Indigenous rights group Justice Aunties, said she started her annual "Day of Mourning" four years ago to give her community a safe place to go on January 26. "Most Indigenous people do not come out of their houses on this day. They don't feel safe in the community. This is the day that they are worst at being victimized," she said.
What started as an event for a few hundred people has since swelled to thousands. "We had 4,000 people there today. It was amazing. All stall holders and artists are already booked in for next year," Hanshaw, a Awabakal Gaewegal elder, said on Thursday.
In the far western Queensland town of Boulia, Beck Britton had been worried that her attempts to throw an Australia Day party could fall flat. Around 30% of the town's population of 450 residents are Indigenous.
"Australia Day tends to end up a very cliquey day where there's not a lot of togetherness outside of free breakfast on the council," she said, adding that some long-term residents of the town are very resistant to change.
Britton followed her partner, a professional kangaroo-shooter, to the town 15 years ago and recently spent five years living on its outskirts. "The generational trauma that I have just seen in the last five years has been so eye-opening," she said. "There's always underlying conflict. It can be quite turbulent, especially around the Christmas period when people don't have a great deal to do other than to drink."
On January 26, she wanted to show her five sons, aged 8 to 16, the value of community spirit, so they set up bins as wickets in the main street for an old-fashioned game of cricket, encouraging players to wear colorful clothes and tutus. More than 150 locals, young and old, Indigenous and non-Indigenous, joined in.
"Some people think it's just a silly, fluffy event, but there's always an underlying reason for it," she said. "Sometimes people use significant days as a platform for bigger issues. And sometimes we just need to step away from that and enjoy each other's company because at the end of the day, what we all crave is connection."
Defining referendum
It wasn't formally mentioned at Britton's community cricket match, but one of the big issues dominating Invasion Day events this year was the upcoming vote on the "Voice to Parliament," the country's first referendum in 24 years.
Though the wording is yet to be finalized, the draft asks for a yes or no response to the following question: "Do you support an alteration to the Constitution that establishes an Aboriginal and Torres Strait Islander Voice?"
A yes vote would allow an Indigenous body to be created to advise the Federal Parliament on policies and projects relating to Indigenous people.
Australian Prime Minister Anthony Albanese has implored the nation to say yes despite criticism from political rivals that there's enough detail for voters to make an informed choice.
"If not now, when will this change occur? And if not the people of Australia this year, who will make this change?" Albanese asked reporters on Thursday. "This is an opportunity for Australia. It's one that I sincerely hope that Australia doesn't miss. This is a gracious and generous offer to recognize Aboriginal and Torres Strait Islander peoples as our first peoples."
But some Indigenous groups say it's not enough — they want Australia to first end its status as the only Commonwealth country not to have signed a treaty with its Indigenous population.
"We need to end the war that was declared on our people over 200 years ago," Greens senator Lidia Thorpe, a DjabWurrung Gunnai Gunditjmara woman, told reporters on Thursday.
"Treaty is what will truly unite this nation and everyone in it, and through a treaty we will have something to celebrate."
But for now, the only offer on the table is for the Voice to Parliament, which came about through a process of consultation with hundreds of diverse Indigenous groups who outlined their wishes in the Uluru Statement from the Heart.
Historian Darian-Smith said the referendum is a "future-defining moment" that gives Australians "one opportunity to really say what we want for the future of our nation" — and that will influence how Australia views its national day.
To pass, the referendum needs to win the majority of votes nationwide, as well as the majority of votes in the majority of states. Only eight of 44 referendums have ever been approved in Australia — and a recent opinion poll shows support for this one is slipping.
Hanshaw, from Justice Aunties, said she'll vote yes but doesn't think it'll pass. "Too many racists and too many First Nations people don't trust the government," she said.
At the vigil, Cooper whispers that she plans to vote yes in the referendum and hopes that other allies do, too.
"We've waited a hell of a long time already. So I think it's time. Australia's mature enough to step up," she said. "People are ready for change."
The-CNN-Wire
™ & © 2023 Cable News Network, Inc., a Warner Bros. Discovery Company. All rights reserved.