Protesters make an appearance outside the Calexico Recall petition event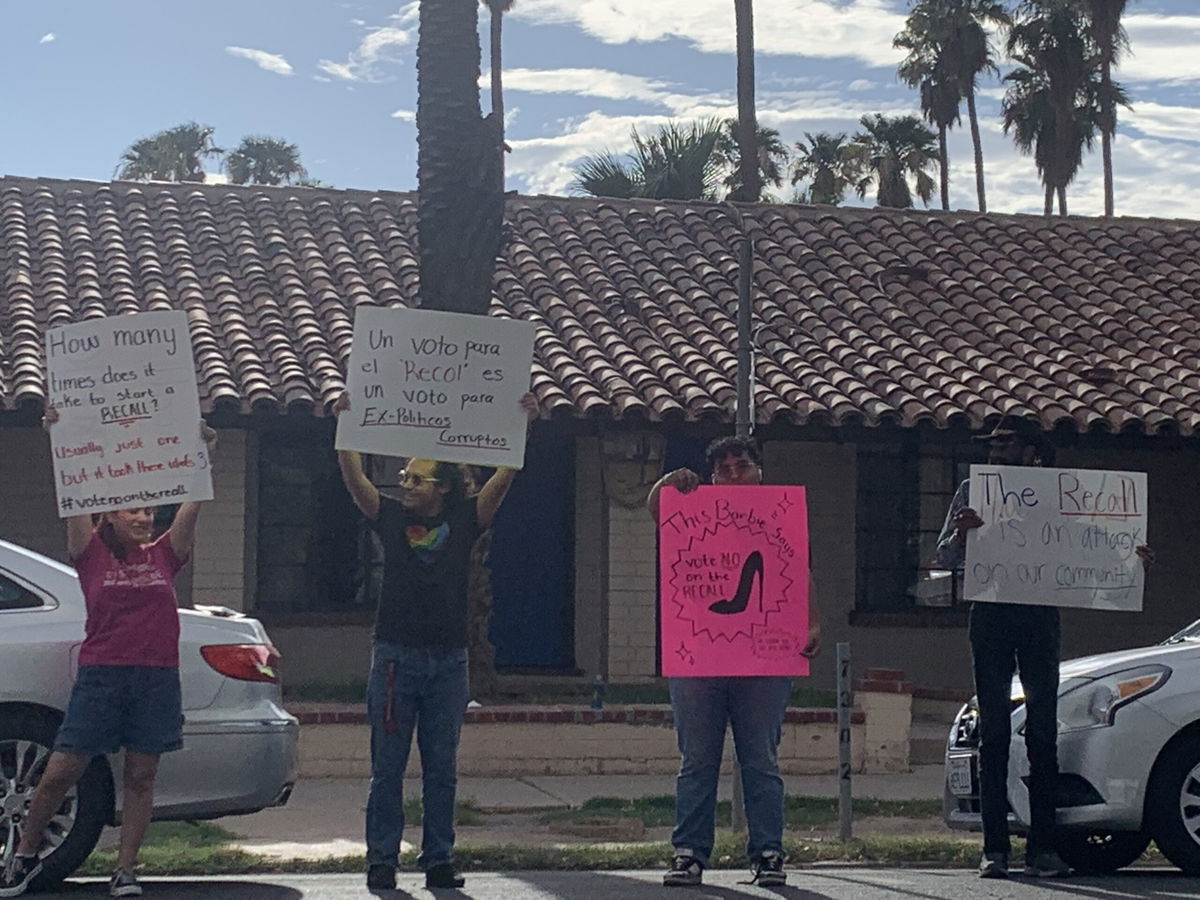 CALEXICO, Calif. (KYMA, KECY) - The Calexico Recall Committee held a petition signing event at the Womans Improvement Club open for the community to sign in favor of recalling Calexico Mayor Raul Ureña and Council Member Gilberto Manzanarez.
Protesters supporting Mayor Ureña arrived with their posters across the street from the event.
The recall event served hotdogs and snacks for residents who came in to sign the petition.
The recall petition needs to gather about 4,200 signatures from Calexico's residents in order to proceed to make it into this year's electoral ballot.
Coordinators and the committee of the recall believe there needs to be action taken place for the businesses downtown, homelessness, recreation parks, and support for the first responders in the City of Calexico.
Ismael Arvizu who is in support of Mayor Ureña, spoke about the coordinators behind the Recall.
"Mostly supported by those who are conservative ideas of anti-queer, LGBT movements, anti-immigrant anti-homeless, anti-poor basically and there's a lot of classism, elitist, racism and all kinds of isms," stated Arvizu.
While those in support of the recall believe it has nothing to do with the mayor's sexuality.
"We need to have to have to be respectful and make sure that the community follows us okay in a respectful way. We're not making no personal attacks he spends the whole situation he wants to make it about himself. No that is not the issue, it's not about him, it's because of the disservice that he is doing to Calexico," said Jesus Solano.
Solano has been a resident of Calexico for 36 years.
At the protest was also Council Member Gilberto Manzanarez, who is also being recalled along with the mayor.
"I got served with this recall four months into my term, four months. I want people to realize that, and I would love to see any policies that I passed within those four months that serve only the people in Mexicali as they claim that serve only the farmworkers as they claim every single one of my policies has been for the better men of the people of Calexico," explained Manzanarez.
If all 4,200 signatures are met, the process of residents voting can happen as soon as November during election day.
But if not, the current date confirmed for voting will be in March 2024.