New traffic and parking plan for YPG 2020 Open House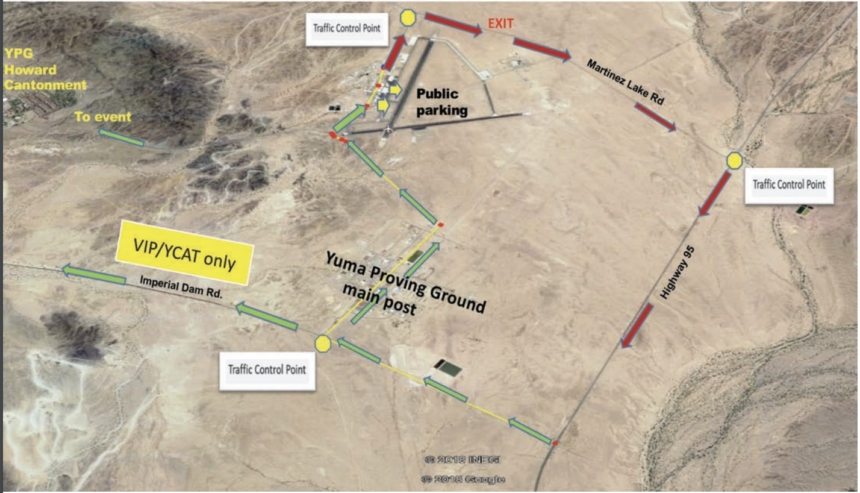 YPG partners with YCAT to decongest traffic and parking ahead of Saturday's event
YUMA, Ariz. (KYMA) - Yuma Proving Ground's (YPG) big 2020 Open House event is Saturday, February 15.
It's a great opportunity to learn about the defense missions performed at YPG.
There's also a star-studded musical lineup featuring Grand Funk Railroad and more.
While still maintaining daily testings, YPG began rolling out some of its outstanding collection of military hardware, like the Blackhawk helicopter and the Striker.
However, a huge part of making this year's event better than the last will be traffic management.
YPG is confident the new traffic and parking plan will de-congest the flow of over 10,000 people between Highway 95 and Cox Field.
Omar Silva from Yuma Test Center at YPG, said, "[Attendees] will be escorted all the way to the airfield so they won't get lost. There will be officers the whole way. And once they are parked at the airfield on the runways, there will be trolleys within the airfield going around taking people from their vehicles to a bus loading station."
From there, buses will keep going around the clock and taking people from the airfield to Cox Field.
Yuma County Area Transit(YCAT) will play a major role in assisting YPG with shuttling attendees.
There will be YCAT stops around Yuma where people can hop on and ride directly out to YPG, bypassing parking.
YPG says attendees are welcome to bring lawn chairs, blankets, strollers, and cameras.
There will be food and drinks for sale, so outside food and drinks are prohibited.
Pets are not allowed.
Saturday's event is from 10 am till 7 pm.
Visit ypg2020.com for the full lineup.