Continuing real-time coverage of the November 3rd General Election from the KYMA.com, News 11, and CBS 13 news team
10:50 p.m. - Cody Lee
YUMA, Ariz. ( KYMA, KECY) - Mark Kelly currently leads in the U.S. Senate race.
Incumbent Senator Martha McSally is behind by more than 225,000 votes.
Heading into the 11 o'clock hour, Mark Kelly is up by 10 percentage points.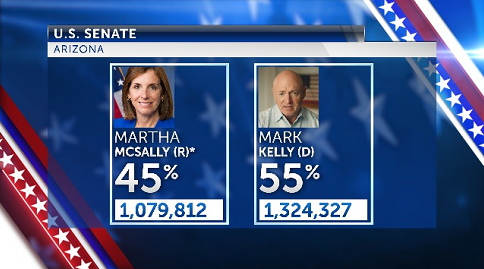 5:49 p.m. - Alexandra Rangel
Lines are moving slow at the Imperial County Registrar of Voters office as of 5:49 p.m. on Tuesday. There is currently an hour of wait time, but if you are in line by 8 p.m. you can still vote.
Keep it tuned to our website for the latest updates.
5:45 p.m. - Cody Lee
YUMA, Ariz. (KYMA, KECY) - As the workforce heads home from work, the line has picked up at the Yuma Civic Center.
Right now, Yuma County is reporting a 9-minute wait at this "mega center."
5 p.m. - Cody Lee/Crystal Jimenez
YUMA, Ariz. (KYMA, KECY) - Lines are moving steady at the Yuma Civic Center and at the Martin Luther King Jr. Center in Yuma. There was an 11-minute wait at the civic center as of 5 p.m. Tuesday.
At the MLK Jr. Center the line is out the door.
Keep it tuned to our website for the latest updates.
2:15 p.m. - Cody Lee
Lara Trump speaks to 13 On Your Side's Cody Lee on Election Day
Yuma, Ariz. (KYMA, KECY) - On Election Day, the Trump campaign is feeling confident with where they stand in the battleground state of Arizona.
Lara Trump, with the campaign, says they have been working very hard to win voters in Arizona.
Between the several visits by the President and many members of the First Family, the campaign expresses positivity after meeting with supporters throughout the state.
Lara Trump also mentioning the various car, truck, and boat rallies that supporters set up. She thinks the support on the ground will show on election night.
The Trump campaign is making an effort to gain the Latino vote as well.
According to the campaign, President Trump has worked hard to lower the unemployment rate for Hispanic Americans.
The President's daughter-in-law said, "He has worked very hard to gain a lot of support in the Latino vote and I really think we're going to see historic numbers tonight for the President. You know this is a president that has worked hard for every single American and we've seen historically low unemployment for Hispanic Americans in particular under this president."
"I'll tell you whenever I talk to people in Florida people that have come from Venezuela from Cuba, they will tell you, they are 100% onboard with this president because they know he's standing up strong against socialism they have lived in a socialist country, they do not want to see that come to America," Lara Trump added.
Lara Trump told 13 On Your Side, the First Family will spend the evening at the White House watching the results together as a family, just like they did back in 2015.
12 p.m. - Ernesto Romero/Dominique Newland/Gabe Salazar
YUMA, Ariz. (KYMA, KECY) - Our news team went to all voting centers in Yuma County Tuesday morning. Things are moving at a good pace at all voting centers.
The Yuma Civic Center and Yuma Catholic had longer lines. We are not allowed within 75 feet of the voting centers, but we do know that some lines are short enough that they're forming inside of the different voting centers throughout Yuma County.
Voting centers in Yuma County close at 7 p.m. We expect early results at 8 p.m. (MST).
10:07 a.m. - Alexandra Rangel/Lisa Sturgis
Calexico, Calif. (KYMA, KECY) - Many voters across the Desert Southwest began their day with a trip to the polls. The historic November 3rd General Election is here.
The polls opened at six Tuesday morning in Arizona, at seven in California.
CBS 13's Alexandra Rangel says operations were running smoothly at polling places in Calexico. She filed this live report just after 10 Tuesday morning:
CBS 13's Alexandra Rangel reports from a Calexico polling place - 10:07 a.m.
Monitor this blog throughout this historic election day for a real-time account of Election Day events and happenings as they unfold.