Pentagon moves $3.8 billion from weapons programs to pay for border wall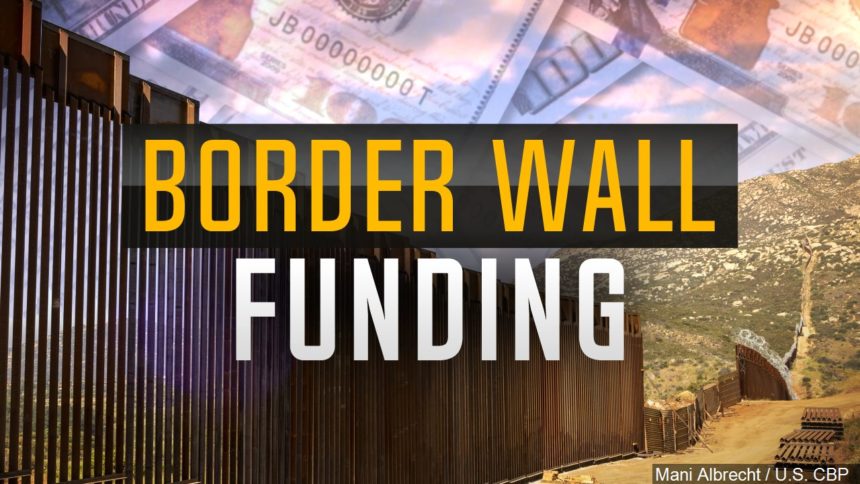 Cuts include $156-million to F-35 programs at MCAS Yuma and Luke AFB
WASHINGTON, D.C. (KYMA, KECY) - The U.S. Department of Defense informed Congress on Thursday it intends to move $3.8 billion from various weapons programs to pay for border wall construction.
The notice sent to Congress says the money will go to "higher priority items" and is "required to provide support for counter-drug activities of the Department of Homeland Security (DHS)."
The notice goes on to say:
"DHS has identified areas along the southern border of the United States that are being used by individuals, groups, and transnational criminal organizations as drug smuggling corridors, and determined that the construction of additional physical barriers and roads in the vicinity of the United States border is necessary in order to impede and deny drug smuggling activities,"

Department of Defense Notice to Congress - February 13, 2020
A Pentagon spokesman says the funding will build about 177 miles of fencing along the U.S.-Mexico border. In a statement, Lt. Col. Chris Mitchell said the Department of Defense supports the DHS mission.
"The Department of Defense is committed to supporting the Department of Homeland Security's efforts to secure the southern border by constructing fences and roads and installing lighting to block drug smuggling corridors. We will continue to support DHS and other agencies as needed to keep our homeland secure."

Lt. Col. Chris Mitchell, DoD Spokesman
Democrats were quick to condemn the move. Senator Kyrsten Sinema pointed to the impact the cuts will have on Arizona in a statement released Thursday afternoon.
"The emergency declaration continues to undermine critical military assets, including those in Arizona. Cuts to military funding announced today unnecessarily risk resources for Arizona service members and national security. I will continue working to end the emergency declaration, and find bipartisan solutions to secure our border and strengthen our military."

Sen. Kyrsten Sinema, (D) Arizona
Sinema points out the cuts include $156-million in funding from the F-35 program. The fighter jets fly out of several bases across the country, including MCAS Yuma and Luke Air Force Base in Phoenix.
The Senator also points out another $1.3-billion will be taken from the National Guard and Reserve equipment budget. That funding keeps the 162nd Test Center in Tucson up and running.
Sinema isn't the only member of Arizona's Congressional delegation to speak out against the decision. Representative Raul Grijalva shared harsh words on Twitter.
Trump is stealing from Arizona military funding yet again to bulldoze Southern Arizona habitats and blow up Native American sacred sites.

Once again, American taxpayer's are paying to build his xenophobic wall. https://t.co/WssWEEwacy

— Raul M. Grijalva (@RepRaulGrijalva) February 13, 2020
Mark Kelly, a U.S. Navy veteran and Democratic candidate for Senate also criticized the movement of military funds. In a statement released to KYMA.com Thursday evening, Kelly writes:
"As a former test pilot and combat pilot, and having spoken to F-35 pilots and their commanders at both Luke AFB and MCAS Yuma, I am concerned that cuts to the F-35 program will negatively impact our national security...By voting to let the president raid funds from Arizona military bases last year, Senator McSally gave him the green light to do it again."

Statement from Senate Candidate Mark Kelly, (D)
Kelly's opponent, Senator Martha McSally, (R) Arizona has yet to comment on the plan.
KYMA.com has reached out to MCAS Yuma for comment on the loss of funding. Its public affairs office has not yet returned our call.