Hero dog goes down under to help wildlife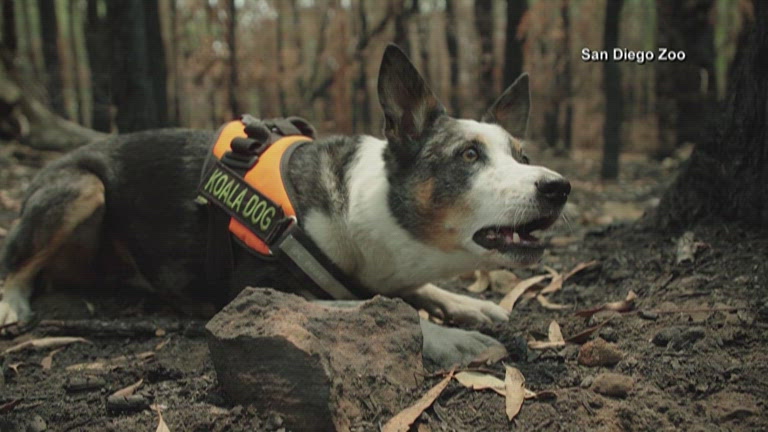 San Diego-based sniffer on the hunt for injured animals
BLUE MOUNTAINS WORLD HERITAGE AREA, Australia (KYMA, KECY) - A hero dog goes on the hunt for injured wildlife in Australia's fire-ravaged bush country.
"Smudge" is a rescue dog specially trained to sniff out koalas. His unique talent is coming in handy on his latest mission.
Smudge is one of dozens of American canines on duty in the Blue Mountains World Heritage Area.
"One of the challenges we face in the Blue Mountains area is they're really difficult habitats to survey for koalas. So the trees could be really big; the canopy can be really dense, and you can't see them by looking. So in some areas you can just do a visual transect; walk along, look up and count koalas; you can't do that in this area. So, we've tried a lot of different survey methods, and the most effective by far is using detection dogs." says Kellie Leigh, of the San Diego Zoo.
Leigh says the little koalas may be hard to spot, but they do leave behind some clues that dogs like Smudge pick right up on.
"So the dog will help us find the scats. If we find fresh scat, we can start focusing on the canopy, and do an intense search and hopefully locate the koala as well. Um, but certainly in these areas it's too difficult. We can take; if we do a transect using people looking for scats, it'll take three people an hour or so. A dog will do double that area in five minutes and find more scats. So, they're incredibly useful out here."
Researchers from San Diego Zoo Global are in Australia with the dogs helping with animal rescue efforts.