Senate approves new North American trade deal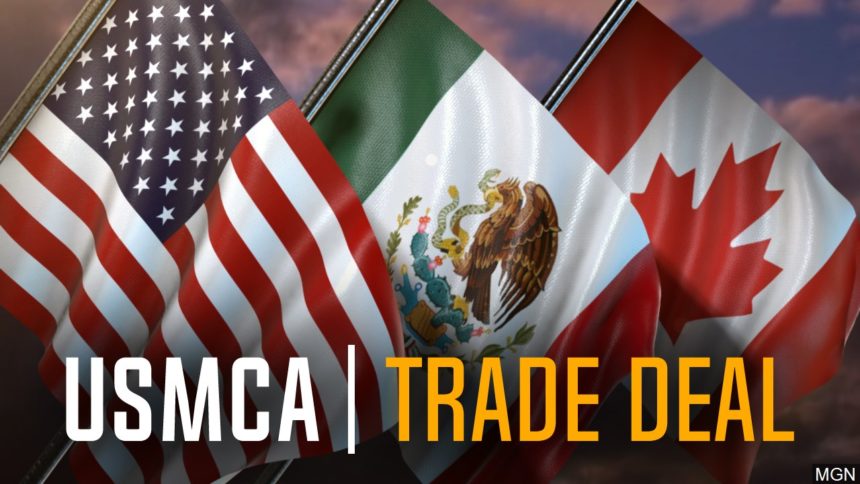 Arizona leaders celebrate passage of USMCA
WASHINGTON, D.C. (KYMA, KECY) - The Senate has overwhelmingly approved a new North American trade deal that rewrites the rules of business between the U.S., Mexico, and Canada.
The U.S.-Mexico-Canada Agreement (USMCA) passed by a vote of 89-10. President Donald Trump is expected to sign it into law.
USMCA replaces the North American Free Trade Agreement (NAFTA.) NAFTA removed most trade barriers between the three countries. However, critics say it encouraged American companies to move their manufacturing plants south of the border to take advantage of cheap Mexican labor.
Many of Arizona's leaders are celebrating the deal's passage.
Republican Senator Martha McSally sees the deal as a big win for Arizona. She posted this statement on Twitter Thursday:
🚨🚨We finally passed the #USMCA! This historic trade agreement creates wide-ranging opportunities for Arizona's workers, farmers, ranchers, and businesses. pic.twitter.com/jhorXN2XSU

— Martha McSally (@SenMcSallyAZ) January 16, 2020
Democrat Mark Kelly, who's challenging McSally for her Senate seat also supports the measure. In a statement released today, Kelly writes:
"This is good news for Arizona. Cross-border trade drives our economy and creates good paying jobs in every corner of our state. Leveling the playing field for American businesses, manufacturers, and workers should be the goal of every trade agreement, which is why I was glad to see the USMCA updated with improved protections for American workers."

Former Commander Mark Kelly, (D)
Democratic Senator Kyrsten Sinema also believes the agreement will help Arizona. Sinema posted this on Twitter Thursday:
Cross-border trade means more Arizona jobs, a stronger economy, and greater opportunity for Arizona families. That's why we worked across the aisle to pass the USMCA. https://t.co/CzpQFYcmkM pic.twitter.com/9jneAs6CQP

— Kyrsten Sinema (@SenatorSinema) January 16, 2020
Governor Doug Ducey sees the pact's ratification as an historic day for the state. In a statement Ducey writes:
"As a trade powerhouse, Arizona stands to gain big with this updated agreement in place. Already, trade with Mexico and Canada supports more than 228,000 Arizona jobs and $20 billion annually. The USMCA will strengthen these relationships and set the stage for a new generation of closer economic ties with our international neighbors."

Governor Doug Ducey, (R) Arizona
Nationwide the USMCA is only expected to boost economic growth and job creation moderately. The U.S. International Trade Commission estimates it will increase gross domestic product by 0.35% and create 176,000 jobs.
Critics of USMCA say it doesn't go far enough to address climate change. They also say it doesn't do enough to protect American jobs.