State pumps the breaks on Somerton High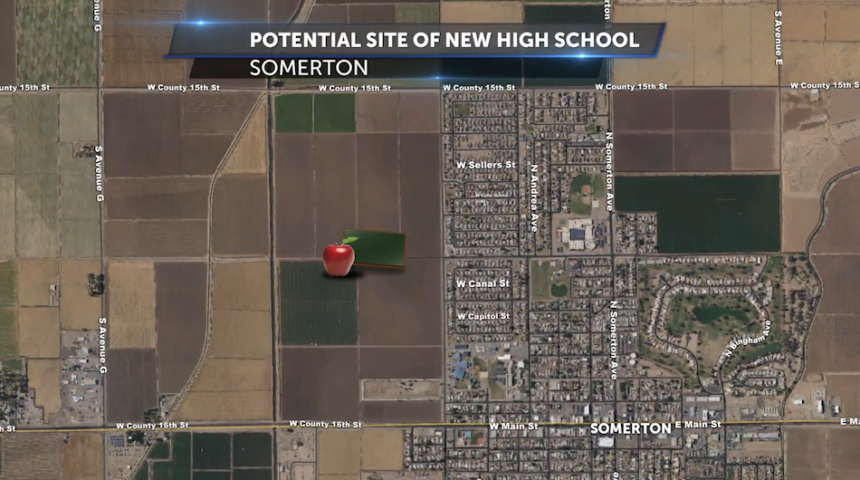 SOMERTON, Ariz. (KYMA, FOX 9) - A state board decision is pumping the breaks on new construction at Somerton High School.
The City of Somerton is disappointed by the choice to not disperse the funds but they are still committed to the new school.
Somerton councilman Miguel Villalpando explained ground was supposed to break in 2020, but the date has changed several times.
"I believe Somerton is a very patient community. We've been patient, but right now there is a cloud of uncertainty. That uncertainty is actually what's concerning a lot of members of the community was because we were so invested during the processing of the bond," explained Councilman Villalpando
Yuma County voters approved $25 million towards the project and the City of Somerton is ready to start construction, but the Arizona School Facilities Board is delaying funding the full project.
Nearly 1,200 students are bussed from Somerton to Kofa High School, according to the councilman.
The school is supposed to be located near Cesar Chavez Avenue and Jefferson Street.
Councilman Villalpando said funding was given to a Chandler School District to build a high school, but it was an exception and, to say the least, he is disappointed by the hold.
"Maricopa historically always gets the largest sum of the money. Representation of the school facility's board, where are they from? Are they in tune with the rural communities," said Councilman Villalpando.
The councilman explained if they go ahead with the project with the money they have, it will only be a partial high school.
"They called it like a skeleton high school, which was only going to be basic buildings and was only going to serve, I believe either freshman and sophomores or freshmen only and then they were going to go from there," explained Villalpando.
News 11 reached out to the Arizona School Facilities Board to ask them if they have visited Yuma County and asked why they ultimately made the decision to put it on hold.
On Wednesday, News 11's Ciara Encinas and Telemundo 3's Jackie Lopez will be sitting down with the Yuma Union High School District who said the superintendent is working to appeal the decision.