Winter shelter opens in Calexico, volunteers needed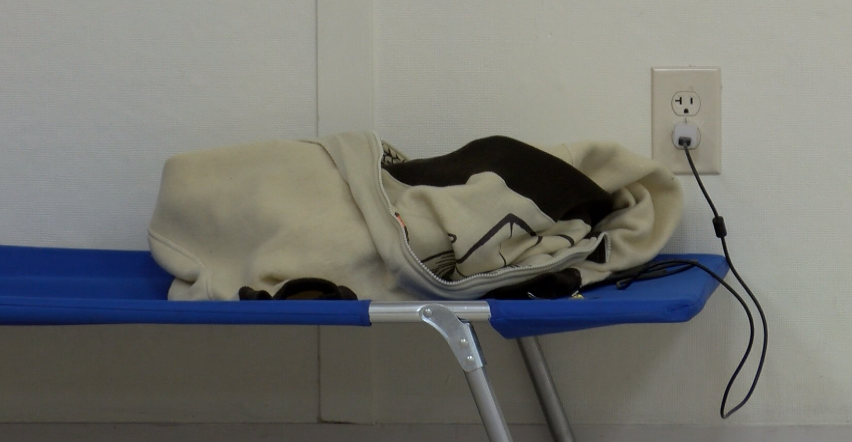 CALEXICO, Calif. (KYMA, KSWT, KECY)-A winter shelter for homeless people is now open in Calexico.
The Calexico Neighborhood House (CNH), was able to set up a temporary shelter in one of their classroom buildings, but the nonprofit is in need of volunteers to help operate the shelter.
The winter shelter is open from 6:00 p.m. to 6:00 a.m. There are 40 beds available and it's open to anyone that needs a warm place to sleep as long as they are willing to follow the shelter's rules.
"Every year it's getting colder, and there are more people on the streets and we're all crowded together," said Genaro Villegas, a homeless staying at the shelter.
The CNH passed out flyers to the homeless inviting them to the shelter.
Although many are hesitant to accept help, the nonprofit said little by little more homeless are coming in to stay at the shelter.
"It's word of mouth, the first day we had ten. Yesterday, we had 17, so we don't know how many we're going to get today," said Cindy Alba, with the CNH.
The shelter is only temporary, but one homeless man said every little bit of help counts.
He said he doesn't know where he'd be sleeping tonight if it weren't for the shelter.
"A park, or on a bus stop, sometimes in the back of an alley," said Villegas.
Villegas admits that it's hard for him to accept free handouts.
"We've been so much on the streets, like myself. I've been kicked out of jobs, out of stores. So I am a little bit on the defense side. It's hard for me to take something for free. If I talk to someone they think I am trying to take a dollar, no, I don't want a dollar I can recycle," said Villegas.
"We need to help our homeless. A lot of people don't want to help them, but they are okay, we have rules and they are okay they're very decent," said Alba.
Villegas said right now he is taking it day by day, but he hopes he can get a job soon.
"That's the thing, we can overcome that and with a little bit of help we'll be alright," said Villegas.
The CNH needs volunteers that are willing to help operate the shelter.
There are three-hour shifts available from 6:00 p.m. to 6:00 a.m. in the morning.
If you are interested in helping you can call the CNH at (760) 455-0520. You can also drop off donations at the shelter located at 426 E. Fourth Street in Calexico.