Hammerhead Tattoo closed, owner accused of possession of child pornography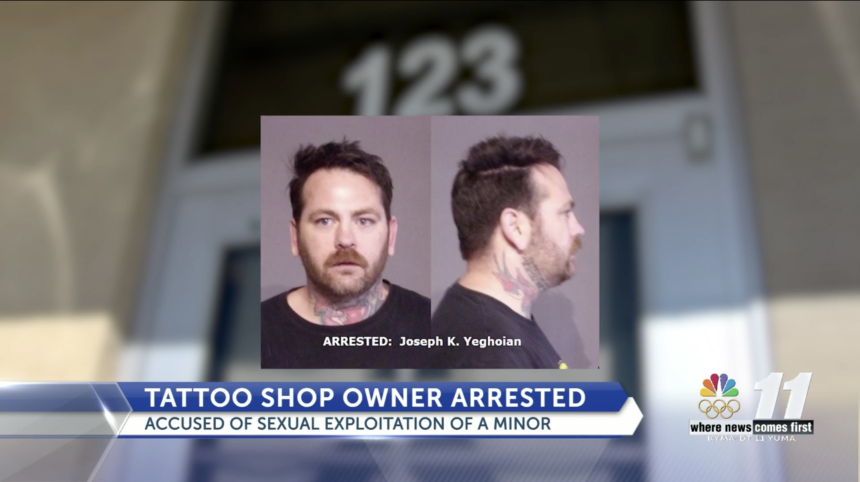 Police say suspect also shot secret video inside his business
YUMA, Ariz. (KYMA) - Thursday, police arrested a local tattoo shop owner for allegedly having pictures of children being sexually abused.
This isn't his first run-in with the law.
35-year-old Joseph Yeghioan has a long rap sheet of past convictions dating back 20-years ago to 1999.
Friday afternoon, Hammerhead Tattoo, LLC located at 2855 S 4th Avenue Suite 123 in Yuma was cleared out, and a representative on-site claimed the business was closed down.
Who knows for how long.
Krystal King was a client of Yeghoian since 2015.
When the sickening and disturbing news about the popular tattoo artist circulated, King said, "Oh my god the guy who does my tattoos, he was arrested."
Clients say Yeghoian was known for his signature water-color work and was one of Yuma's best with the ink.
Another former client said, "He had good reviews about his artwork but not necessarily him as a person."
Adding, "It's horrible news to get especially with all of the people that he tattooed"
The National Center for Missing and Exploited Children linked sexually explicit photos of minors back to Yeghoian's email and Yuma address.
During the investigation, the Yuma Police Department (YPD) also found video recordings of women undressing and using the restroom inside of his tattoo parlor.
The videos date as far back as 2015.
King said, "I was shocked! It's not anything that I ever expected."
King, a former detention officer said Yeghoian was her go-to tattoo artist.
At times, even bringing her children along with her.
"It was always professional, I guess you would say," King recalled.
But another client recalls being uncomfortable around the tattoo artist, making it her only tattoo experience with Yeghoian.
"Females would tell me I'm going to Joey K. But I would say don't go alone or don't go to him at all. He has good artwork, but he was just an off person," the former client told News 11.
Some locals expressed on Facebook how they're disgusted by the sight of their work done by this tainted artist.
King disagrees, "My reasoning and meaning behind my tattoos don't change just because he did them."
Yeghoian's family did reach out to News 11 asking for privacy during this rough time.
YPD is asking women who may have visited Hammerhead Tattoo for a tattoo since 2015 and may have used the restroom or undressed to call them at 78-crime.