Mark Kelly sworn in to U.S. Senate
Former astronaut assumes seat left vacant by death of John McCain
WASHINGTON, D.C. (KYMA, KECY) - It's an historic day for Arizona. For the first time in nearly 70-years, two Democrats now represent the state in the U.S. Senate.
Former Navy fighter pilot and astronaut Mark Kelly took his Oath of Office Wednesday on the Senate floor. Kelly defeated appointed-incumbent Sen. Martha McSally in a November 3rd Special Election to fill the seat left vacant by the death of John McCain.
In a written statement after taking office, he invoked the "independence" of the late Sen. John McCain, R-Ariz., who sometimes crossed party lines and whose seat he now holds.
In his statement, Sen. Kelly writes: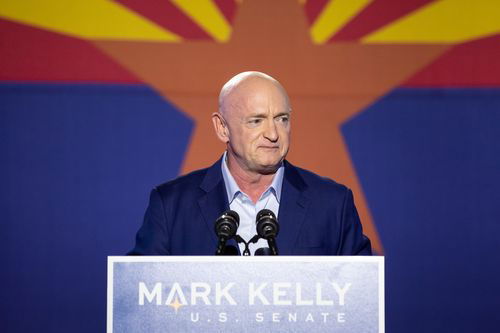 "It is my honor to represent Arizona in the United States Senate.

"I've faced challenges serving our country at war and in space, and as our country faces new challenges I am ready to serve again, and get to work fighting this pandemic that has taken the lives of hundreds of thousands of Americans and led to hardship for countless others.

"The legacy of this Arizona Senate seat, once held by Senator McCain, is one of independence. I am committed to working with Republicans and Democrats and using science, data and facts to craft policies that will help us overcome our greatest challenges, including tackling this virus and getting our economy back on track.

"It's only through hard work and compromise that we will be able to create a more prosperous path forward for Arizona and our country.

"That work has already begun, and today I am humbled to continue it as a United States Senator."

-Sen. Mark Kelly, (D-Ariz.)
The Senator was joined at his swearing in by friends and family including his wife, former U.S. Rep. Gabby Giffords, his brother Scott, and his two daughters, Claudia and Claire. Vice President Mike Pence swore him in using a Bible passed down from Gabby's grandmother. Arizona Senator Kyrsten, wearing a zebra print kimono and a purple wig, escorted him to the Senate floor.
Kelly's arrival in the Senate marks a political milestone for Arizona. It hasn't had two Democratic senators since 1953. Joe Biden's victory in the Presidential race is another sign of the state's leftward political shift. Arizona hasn't gone to a Democrat since 1996 when Bill Clinton carried the state.
The Senator is a former Navy fighter pilot and NASA astronaut. He became politically active after a gunman shot his wife in head during a community event in Tucson in January of 2011. The shooter killed six people and injured 12 others besides Giffords. The couple mounted a push for gun control once she'd make a partial recovery.
Kelly is just the fourth astronaut to serve in Congress. He follows in the footsteps of Sen. John Glenn who served Ohio for decades after becoming the first American to orbit the Earth.