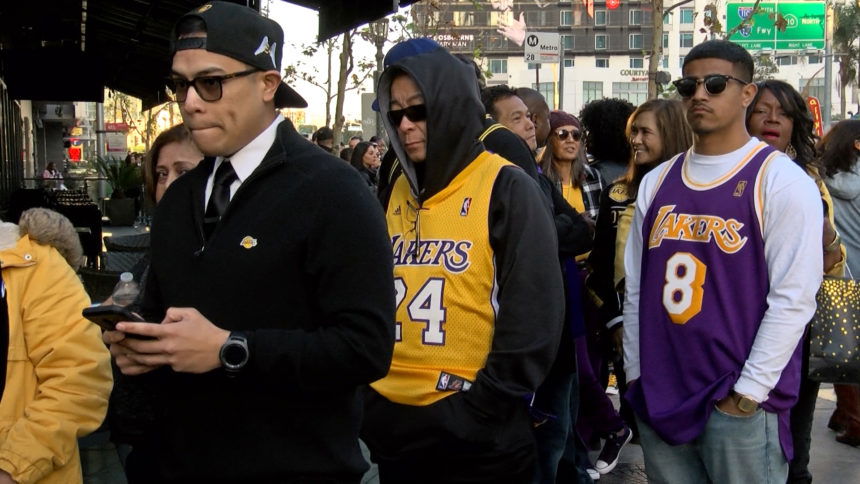 20,000 attend Bryant's celebration of life, hundreds more memorialize in streets
Los Angeles, Calif. (KYMA) - Twenty thousand people packed the Staples Center in Downtown Los Angeles to remember Kobe Bryant and his daughter Gianna.
Everything from the date to the stage paid tribute to the player.
What Bryant meant to basketball, Los Angeles, and the Lakers organization truly radiated the streets of Downtown L.A.
Bryant was considered the king of L.A. and the Staples Center was his thrown.
For 20,000 people, Monday was the final stage of grieving the loss of a legend by attending Kobe and Gigi's celebration of life.
One fan attending the memorial ceremony said, "I would've paid the $225 I don't care. People were saying why so much, why are they charging. I don't care I would've paid for it."
Street corners orbiting Downtown Los Angeles were dripped in purple and gold memorabilia as fans gathered to say their final goodbyes to an NBA legend, LA icon, and global superstar.
"His professionalism, he's the type of person you hate or you love, but at the same time you end up respecting him," said Maria, a long time Kobe fan.
"There are a lot of Lakers fans in El Salvador, all of Central America, especially Kobe fans," Carlos said.
The moment tickets to Kobe and Gigi's celebration of life went on sale, fans say they scoured Ticketmaster, but only the loyal Lakers and Kobe supporters secured seats.
Like Carlos, who's attended more than 200 games.
Or Maria, who says she was at the Staples Center for Kobe's last games and jersey retirement.
However, many fans like cousins Chelsea and Caitlyn were on the waitlist until Friday.
Chelsea said, "We didn't get [tickets] at first. I actually didn't get [a ticket], Caitlyn was moved off the waitlist."
Ticket or no ticket, visual expressions of the intimate connections and memories of Kobe shined bright, as Mamba fans grieved a loss that there's no coming back from.