Thunderbirds arrive to NAF El Centro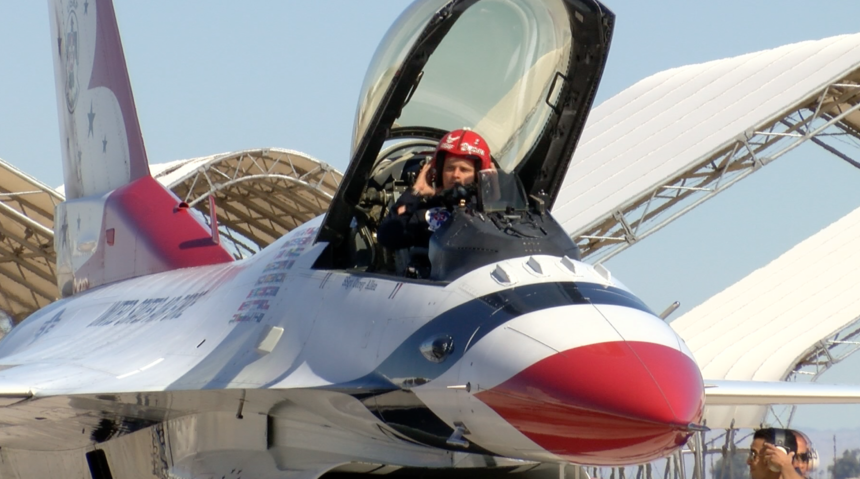 EL CENTRO, Calif, (KYMA, KECY), You may be seeing some unfamiliar planes doing cool tricks in our valley skies.
The the U.S. Air Force Thunderbirds based out of Las Vegas arrived to the El Centro Naval Air Facility Wednesday to do some training alongside the Blue Angels.
"It's the first time to our knowledge that the Thunderbirds come to El Centro," said Lt. James Haley, Blue Angels Pilot.
"There's gonna be a lot of extra noise in El Centro this week," said Trevor Aldridge, Thunderbirds pilot.
The U.S. Navy Blue Angels and The U.S Air Force Thunderbirds will be flying the valley skies multiple times a day. The joint training will allow both teams to share tips, tricks, and best safety practices for their 2020 air show season.
"It's a great opportunity. We've done demonstrations in the past, but never have we gotten both teams together to really practice for several days and get a lot of lessons learned since our missions are so similar," said Aldridge.
A mission to recruit, retain, and inspire past present and future airman.
It's a dream Thunderbird two has been working towards since he was a kid.
"So the opportunity to kinda, give back a little bit and hopefully inspire the next generation to do same thing and reach beyond and do things they wouldn't do otherwise, is something I'm really excited about for the team," said Aldridge.
The Blue Angels and Thunderbirds hold separate air show tours, but both squadrons are scheduled to perform over 50 flight demonstrations this year across the U.S. and Canada.
Lieutenant Haley says it's all about exchanging knowledge with each other.

"I've never even met him before, but we just picked up talking the same speak. We can relate on so many different levels on the aviation aspect and just our experiences in the military. It's pretty incredible to have this exchange," said Haley.
The Thunderbirds will be training in El Centro until Saturday. The best way to see them practice is by keeping an eye out for them in the sky.
The annual Blue Angels Air Show will take place March 14th at NAF El Centro.