President Trump responds to criticism of tweeting with a tweet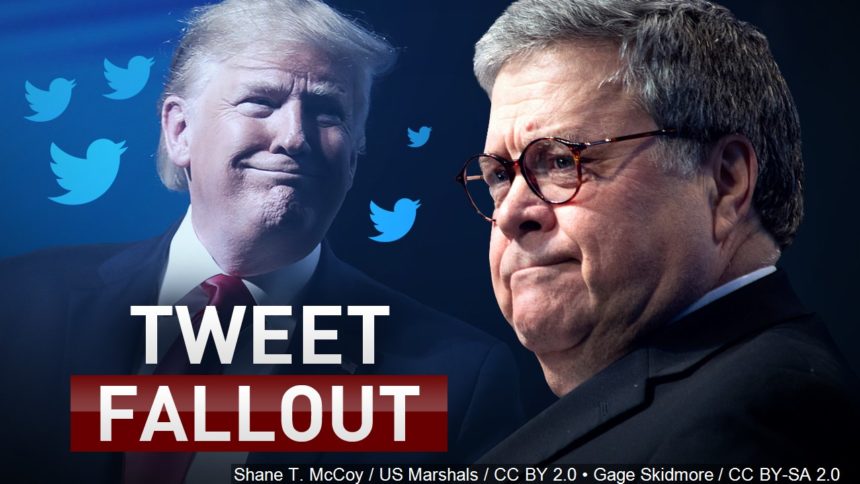 Response raises new questions about Presidential control over the Department of Justice - NBC News' Alice Barr reports
WASHINGTON, D.C. (KYMA, KECY/NBC News) - It's the end of a tumultuous week between President Donald Trump and the Justice Department. It was a week marked by the Attorney General essentially scolding his boss on one hand...then appearing to appease him on the other.
Just hours after President Trump defiantly tweeted that he has the legal right to intervene in criminal cases -- and just one day after Attorney General William Barr declared his independence from the White House -- news that the Justice Department is taking another look at former National Security Adviser Michael Flynn.
Flynn is awaiting sentencing for lying to the FBI. It's a case similar to that of Trump associate Roger Stone. Stone's awaiting sentencing for lying to Congress. His case seemed to put the President and Attorney General Barr at odds.
"I think it's time to stop tweeting."
Barr told ABC News the President's tweets about the Justice Department's prosecution of Stone "make it impossible" to do his job.
"I'm not going to be bullied or influenced by anybody."
Stone was convicted of lying to Congress and obstructing the Russia investigation. The President called his recommended sentence "horrible and unfair." And, when Barr intervened to shorten it, an entire team of federal prosecutors resigned from the case.
Barr insists the President did not influence his decision. But Friday nine Democratic Senators called for Barr to resign.
"He is part of a pattern of political interference in the Department of Justice that is absolutely intolerable." said Sen. Dick Blumenthal, (D) Connecticut.
But the Senate's top Republican backs him up.
"I think the President ought to listen to the Attorney General." said Senate Majority Leader Mitch McConnell, (R) Kentucky.
In another move that could show the Justice Department pushing back against the President, federal prosecutors decided not to charge former FBI Deputy Director Andrew McCabe. McCabe has been a frequent target of President Trump.
The decision ends a two-year investigation into whether McCabe lied to federal investigators about a media leak. McCabe denies intentionally misleading investigators. His attorneys say at long last justice has been done.