Los Angeles high rise fire considered suspicious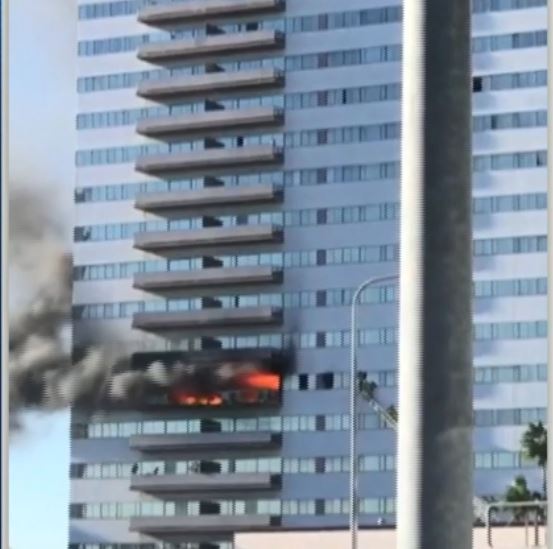 Cell phone video captures flames and smoke billowing from building
LOS ANGELES, Calif. (KYMA, KECY) - Fire and police investigators say a high rise fire that broke out Wednesday morning in Los Angeles is considered suspicious.
"Right now we don't know really if we have an arson or an accidental fire. It's very premature at this tim, so we do have a lot of assets here. We have about 50 police officers here and detectives, specialized detectives from our major crimes division, from our robbery homicide division as well and all of them are working very closely with L-A city arson investigators to determine an origin and in fact if this is a crime or not." said Deputy Chief Justin
Firefighters had to rescue terrified residents from the rooftop of the 25-story building. The fire itself broke out on a sixth-floor balcony. It sent thick smoking billowing through the upper level.
Firefighters say they faced a challenging situation.
"Windows were blown out due to the heat and the flame. We did have gusts of wind up to 35 mile per hour, that created challenges for firefighters that pushed the flames upon them while they're crawling through the dark units on their bellies. They also went through multiple air bottles and they called in eventually for a transitional attack."
Paramedics took two people to the hospital in critical condition. They treated six people for smoke inhalation at the scene.
Firefighters say they were battling a blaze just blocks away when they got called to the high rise. They say that raises suspicions.
"We were here for a fire just blocks away about three blocks for more of an exterior lower fire on another nearby high rise. While we had firefighters still on scene of that unit this fire broke out at 8-37. We then strategically transitioned command to this because it was a much larger more significant fire but certainly the cause due to the uniqueness of two high rise fires erupting blocks away hours apart, that is part of the investigation."