School might be on hold, but YUHSD is continuing work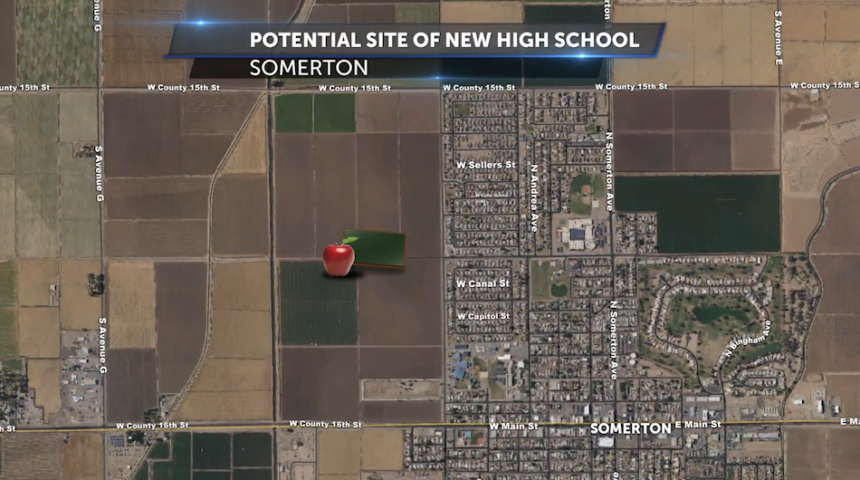 SOMERTON, Ariz. (KYMA, FOX 9) - The Arizona School Facilities Board did not provide the close to $30 million needed to continue work on Somerton High School in December.
The Board told News 11 the numbers they reviewed showed the Yuma Union High School District (YUHD) won't be over capacity until 2023, meaning they won't be eligible to move forward with the school until at least 2021.
But YUHSD said they are still working to make it a reality, although ground might not be breaking.
"I know its disappointing, but as the superintendent of Yuma Union High School District. I don't see this as a standstill situation, I just see it as having to do other work than what we're anticipating on doing," said Gina Thompson, YUHSD superintendent.
She explained the work would include testing the soil in the are to see if it would support the building.
Yuma county voters decided to fund millions of dollars for the project in 2015, but about $27 million more is needed to get the new school up and running.
The board said the school is not being funding in this budget cycle in part because "updated projections (for fy20) would not be available until December 2019. The updated ADM projections indicated that YUHSD would not be over capacity until fy 23 and therefore would not be eligible for approval until the fy 21 capital plan cycle (subject to change in fy 21 capital plan cycle). Yuhsd was eligible for a "conceptual" approval (which it received on December 11, 2019) that will need further review in December 2020."
"Our school district is anywhere from seven to nineteen percent over capacity at our schools right now," said Thompson.
Kofa High School, the school Somerton students are supposed to attend, is already 20 percent overcapacity, according to YUHSD.
On top of that, the 1200 students are bused to and from school, taking up about forty minutes of their day.
"The kids of Yuma County and the teachers, they take all of these things that are obstacles for anybody else and make everybody else indignant and they just can't believe it," said Thompson.
The board never visited Yuma County before making the decision-but they say they have never visited any other area before approving funding.
YUHSD said it isn't considering the idea of the partial school in Somerton because it wouldn't include necessities like career and technical courses or even a library- adding they believe their students deserve more.