Democrats get fiery during Iowa debate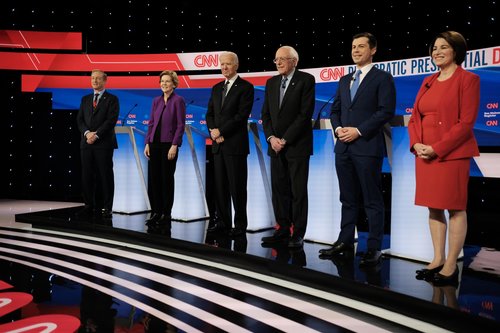 Top six contenders face contentious moments
DES MOINES, Iowa (KYMA, KECY/NBC News) - There was a clear sense of urgency on the stage in Des Moines Tuesday night as the top six Democratic Presidential candidates faced off in the seventh debate of the season.
The Iowa Caucuses are just three weeks away. That raised the stakes for the front runners.
"The top six democratic contenders are in place. The Iowa caucuses are 20 days away."
The showdown opened with a discussion about tensions in the Middle East and who is best prepared to be Commander-In-Chief.
"I think that's about judgment. I think it starts with knowing our military." said Senator Elizabeth Warren of Massachusetts.
Each candidate made their case. And each took swipes at President Donald Trump.
"Mr. Trump has no strategy. He is going from crisis to crisis, from escalation to escalation." said businessman Tom Steyer.
"Time and time again, you see that this president puts his own interests, his private interests in front of our country's." said Senator Amy Klobuchar of Minnesota.
The discussion then turned to a public fight over a private conversation held back in 2018. Warren claims Senator Bernie Sanders told her back then that a woman could not win the White House.
Sanders denies that claim. "Well as a matter of fact I didn't say it."
"Look at the men on this stage. Collectively, they have lost ten elections. The only people on this stage who have won every single election that they've been in are the women." countered Warren.
The debate then turned to exchanges on trade, climate change, and health care.