Pete Frates, the inspiration for 'Ice Bucket Challenge,' dies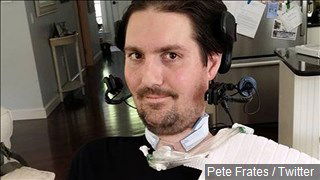 (KYMA, KSWT, KECY)- Former Boston College baseball player and inspiration for the "Ice Bucket Challenge" has died, according to his family.
NECN reports Pete Frates was diagnosed with the progressive disease known as amyotrophic lateral sclerosis and Lou Gherig's disease in 2012.
Reports said Frates helped start the Ice Bucket Challenge two years after he was diagnosed with the disease, raising hundreds of millions of dollars for research into the disease.
"Today Heaven received our angel: Peter Frates. A husband to Julie, a father to Lucy, a son to John and Nancy, a brother to Andrew and Jennifer, Pete passed away surrounded by his loving family, peacefully at age 34, after a heroic battle with ALS," the family said in a statement Monday.