Eventos cancelados en El Valle Imperial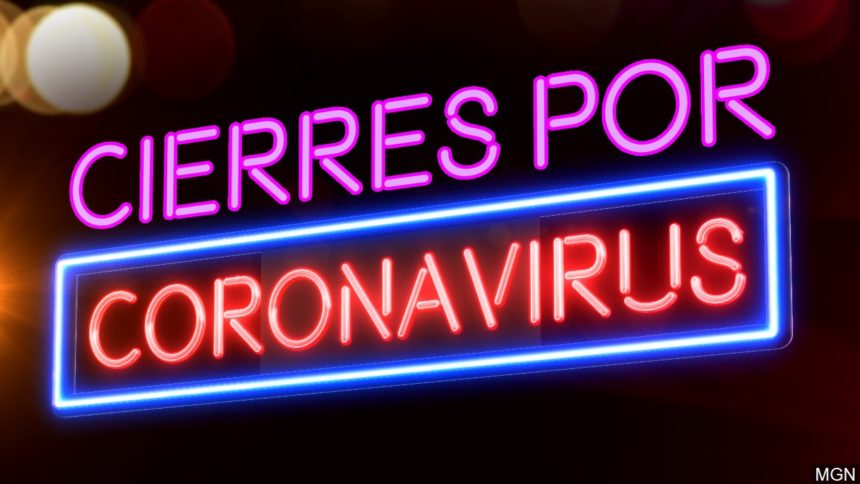 Los siguientes eventos han sido cancelados en el Condado de Imperial.
Escuelas
All Imperial County school are closed until April 17, 2020
IVC está cerrado a partir del 20 de marzo hasta nuevo aviso
Ciudad
Cerrado de Mazo 18 - April 7: El Centro Adult Center, Community Center, Conrad Harrison Gym, Old Post Office Pavillion, Dr. Martin L. King Sports Pavillion.
Todas las practicas de El Centro canceladas.
TODOS los parques y lagos en el Condado de Imperial están CERRADAS hasta nuevo aviso.
Servicios del DMV - en línea y solo con cita previa
Los Centros AJCC en Brawley, Calipatria y El Centro estan CERRADAS hasta nuevo aviso - otras oficinas solo abren para citas
El Centro Skate Park y Aquatic Center - CERRADAS hasta nuevo aviso. Si tiene alguna pregunta, comuníquese con la Oficina de Parques y Recreación de El Centro al (760) 337-4555.
Eventos sociales
Marzo 20, 2020 - Spring Fling & Flick - CANCELADO
Marzo 21, 2020 - Splish Splash Census Bash - CANCELADO
Marzo 26 - Marzo 29, 2020 - Mobile Vietnam Memorial - POSPUESTA
Mayo 1, 2020 - SLAM Fest - POSPUESTA
RESTAURANTES/COMPRAS
Macy's - Imperial Valley Mall
Nacional/ Regional
Jack In the Box
McDonald's
Bath and Body Works
Pinal County Fair
Pride Run Phoenix
Luke Air Force Base Airshow
Arizona Bike Week
Si tiene un evento que se cancela en Yuma o el Valle Imperial, mandemos un correo electrónico con su evento.