Trump bashes Democrats at New Jersey rally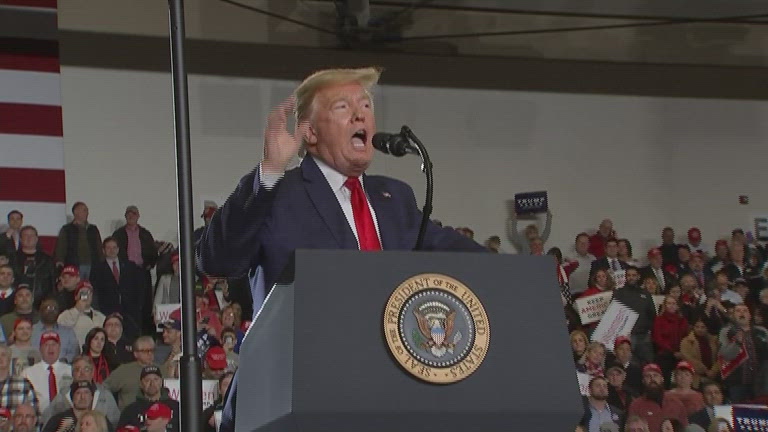 President also praises passage of USMCA
WILDWOOD, N.J. (KYMA, KECY) - President Donald Trump went on the attack against Democrats and the Impeachment process during a campaign rally in southern New Jersey Tuesday night.
Trump accused Democrats of being obsessed with what he called "demented hoaxes," and deranged partisan crusades."
" It's all they know how to do, the do-nothing Democrats. They have spent the last three years, and probably even before I came down on that beautiful escalator with our beautiful future first lady trying to overthrow the last election and we will make sure that they face another crushing defeat. In the next election we are going to have a victory that's even greater than 2016. " Trump told his supporters.
The President spent less time railing against impeachment than he has in previous rallies. He also took fewer opportunities to single out his political rivals. Trump made no mention at all of former National Security Adviser John Bolton.
Instead, he highlighted the American economy, military strength, new trade deals, and strong immigration policies.
"Tomorrow we will replace the NAFTA nightmare, one of the worst trade deals ever in history (cheers) with the incredible brand-new U.S. Mexico Canada agreement, the USMCA. A massive win for New Jersey workers, New Jersey farmers, New Jersey union people, New Jersey manufacturers and everybody." Trump told the crowd.
" I'm also very proud to report that we won a critical supreme court victory yesterday on immigration. We will now be able to enforce federal law and ensure that those seeking admission to our country are able to support themselves financially and not abuse taxpayer funded programs. " he went on to say.
President Trump was in New Jersey to support Congressman Jeff Van Drew. He's a former Democrat who recently defected to the G.O.P.